Some expensive looking shares in the FTSE 350 index
Despite some big recent share price falls, there are still plenty of shares out there trading on very high valuations as measured by PE ratios. A list of some of them taken from SharePad is shown in the table below.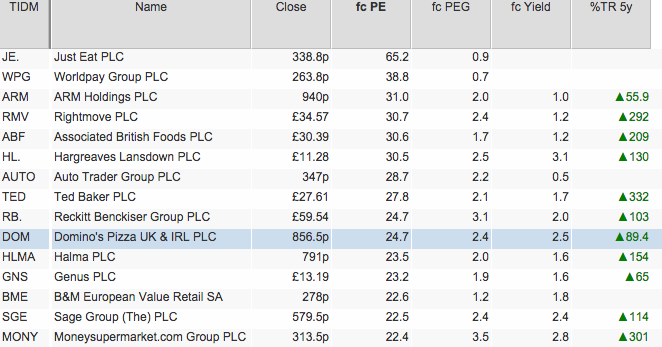 Prices on 9th February 2016
The table shows the forecast PE ratios, the forecast price earnings growth (PEG) ratio and forecast dividend yield. The final column shows the total returns (change in share price plus dividends received) from the shares during the last five years.
As you can see, there are some very punchy PE ratios in this list. Some of the shares such as Rightmove, Moneysupermarket.com and Ted Baker have delivered stellar returns to their shareholders over the last five years.
When you own or are looking to buy shares like these you need to think very carefully about them. The high PE ratio is telling you that expectations for future growth are high. Buying shares with high PE ratios is like paying for something in advance. You then have to hope that you get what you paid for.
But how do you know whether those expectations are too high? It is possible to make money from buying shares with high valuations as long as big profit increases keep rolling in and people think they will keep on doing so. This is the essence of momentum investing but momentum can move down as well as up.
The truth is that you don't know. However, there are a number of safety checks that you can do very quickly in SharePad to see if you are potentially playing with fire.
One inescapable truth of investing in shares is that the price that you pay for them has a big say in how much money you ultimately make during your ownership. Paying too much is how most investors lose money.
They get sucked in by the past performance of the company and its share price and believe that the shares are a buy at any price. History is littered with so many examples of how this ends badly. The late 1990s dot-com boom is probably the best and most recent one.
Before you buy any share, you should spend a lot of time thinking about its valuation and studying it closely. Fortunately, services like SharePad and ShareScope make this a lot easier than it would otherwise be.
There are lots of different ways to value a company but in this article I'm just going to give you a few quick and simple things to consider when you come across shares with high valuations. You can then decide whether you want to do any more research.