Dividend Dogs of 2015
The high yield portfolio selected the shares with the highest dividend yields back in February 2015. Dividend yield in this case was calculated by dividing the most recent annual dividend per share by the share price at that time.
This high yield strategy is very similar to the 'Dogs of the Dow' strategy made popular by Michael B O'Higgins in his book, Beating the Dow. The strategy is based upon buying the ten highest-yielding shares in the Dow Jones index and had a good track record from 1920 to 1990. Since the early 1990s its ability to beat the market has not been as good.
It's worth pointing out here something that might not be obvious to less experienced investors. High dividend yields often occur when a company's share price has fallen a long way. For example, a share price of 100p with a dividend of 4p gives a 4% yield. If the share price falls to 50p, you've now got a yield of 8%. That's why this strategy refers to 'dogs' - shares that have done badly. Having said that, not all shares in the portfolio will be in this category - some will have a genuinely generous dividend.
The twenty shares selected for the Dividend Dogs portfolio from the FTSE 350 are shown in the table below.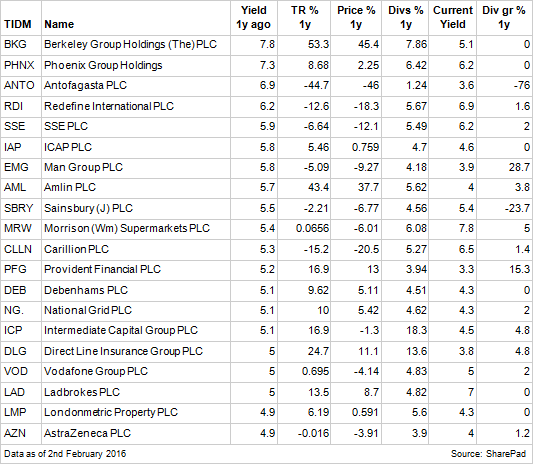 The table above shows you how you can use SharePad to break down the total return of a share between price changes and dividends received. The first column shows the dividend yield at the start of February 2015. The next column shows the total return (share price plus dividends received) over the past year. The following two columns break down that total return between price and dividends. The final two columns show the yield in February 2016 and the rate of dividend growth over the past year.
This portfolio produced a total return of 6.14% in the year to 1st February 2016. This compares favourably with a total return of -6.6% for the FTSE All Share index over the same time period. Thirteen shares made money with seven shares losing money.
Berkeley Group and Amlin were the biggest gainers with total returns of 53.3% and 43.4% respectively. Here most of the gains were due to increases in their share prices.
The third best performer was Direct Line with a total return of 24.7%. Here the experience was slightly different with most of the return coming from dividends received rather than a share price increase.
Antofagasta was the worst performer with a total return of minus 44.7% as dividends were cut on top of a sharp fall in its share price. Carillion posted a negative total return of 15.2% despite growing its dividend slightly.
What's more revealing is that if the three best performing shares - Berkeley Group, Amlin and Direct Line - were excluded, this portfolio would not have made any money at all. It would have still beaten the stock market as a whole, but this is not really much comfort to most people.
This experience is a good example of what can happen to the performance of your investments when you follow a numbers-based strategy - it gets watered down. You dilute the returns of your portfolio by owning lower quality shares that offset the results from the good ones. This process has often been referred to as diworsification by investing commentators.
To make good money from owning shares you ideally need to concentrate your investments into fewer higher quality shares. You can only really do this by knowing what you own and doing a bit of research. Knowing what you own and understanding how it makes money is how investors such as Warren Buffett reduce their risk - not by owning lots of different shares some of which might not be any good.
Sometimes though you can get lucky by buying lots of different shares. This is often the case when a particular investing style is very popular.