Does dignity have too much debt?
Too much debt can often be a warning sign for potential investors. The interest paid on debt magnifies the changes in sales and trading profits on EPS and free cash flow per share - this is known as financial gearing. Gearing is great when times are good but can wipe out shareholders when times are bad.
So should people be worried by the big increases in total borrowings at Dignity recently?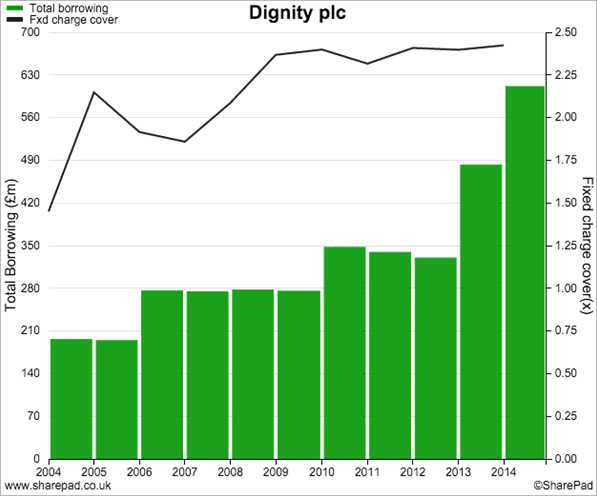 I don't think so. Dignity's sales and cash flows have proven to be very stable. This means that it has the kind of business that can finance itself with borrowed money without shareholders losing too much sleep about it.
Dignity borrows money by issuing debt securities known as notes. It refinanced the business back in 2014 issuing £238.9m of notes paying interest at 3.55% which are due to be repaid in 2034. It also issued another £356.4m of notes paying interest of 4.7% which are due to be repaid in 2049. These notes give Dignity something very similar to a fixed rate mortgage with an average interest rate of 4.2%. This looks like it has locked into a fairly decent long-term financing of its business which shareholders should be fairly comfortable with.
Fixed charge cover of 2.4 times also tells us that Dignity's debts are not something to worry about at the moment.
Dignity has used debt to fund some big buybacks and special dividends in recent years.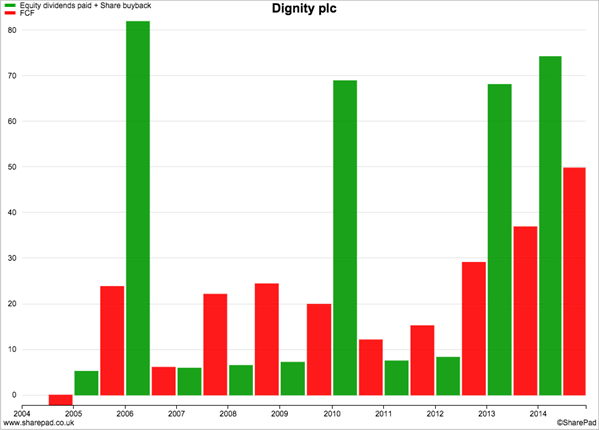 Between 2005 and 2014 Dignity has paid out nearly £335m in buybacks and small annual dividends.This is compared with £239m of cumulative free cash flow generated over the same period.