Testing the past performance of cash flow portfolios
I've run the following filter each from 2006 to 2015 in SharePad:
Financial shares are excluded as they don't fit this strategy well.
Minimum lease-adjusted CROCI of 10%.
Minimum free cash flow yield (free cash flow per share as a percentage of the share price) of 5%.
Minimum market capitalisation of £100m.
Once SharePad had provided me with a list of shares I exported the list to a spreadsheet and assigned a ranking to each company for CROCI and free cash flow yield. I then added the two rankings together to form a combined ranking. This is very similar to the process in Joel Greenblatt's Magic Formula strategy.
I then selected the shares with the lowest combined ranking to build an equally weighted twenty share portfolio (the same amounts of money invested in each share) from twenty different sectors of the stock market. Unlike many academic studies of investing strategies, I wanted to set up a test based on something that private investors could realistically be able to do in practice.
I also wanted to spread the portfolio across different sectors in order to spread out the risks of the portfolio. The portfolio was held for one year. At the start of the next year, a new portfolio based on the same criteria was selected. This process was repeated for ten years.
A ten share portfolio was also tested.
The total return performance of the portfolios was then compared with the total returns of the FTSE All Share index. The chart below shows the results based on a starting value of £100,000 in 2006. For simplicity the costs of buying and selling shares has been ignored. This will overstate the portfolio returns a little bit but as you will see this won't matter too much.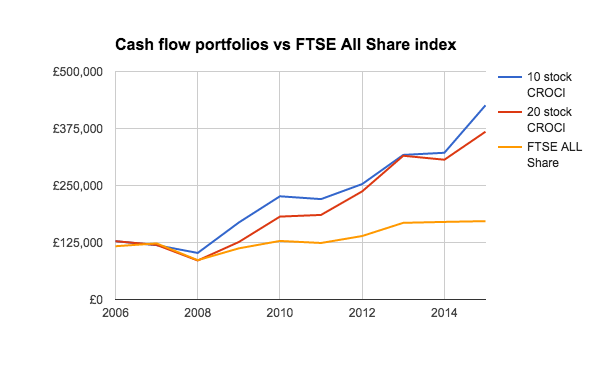 As you can see, the cash flow portfolios have trounced the stock market as a whole.
Let's have a look in more detail