A closer look at PayPoint
PayPoint passes a lot of tests which suggest that it has the makings of a good investment.
Above all else, its business is fairly easy to understand. The PayPoint logo is a common sight outside thousands of convenience stores and local shops in the UK and Ireland. It also has a business in Romania.
Inside these shops is a PayPoint terminal which allows customers to do lots of things such as pay utility bills, pay council house rents, buy lottery tickets, top up the credit on a mobile phone and send money to other people. The terminal also helps retailers process debit and credit card transactions. In return, PayPoint gets a small slice of the money spent. When millions of these small slices are added up, PayPoint has been able to build up a very profitable business.
If we have a look at some key financial ratios in SharePad then PayPoint looks as if it is a very good business. I'd go as far to say that PayPoint has many of the desirable characteristics that many investors would love to see from the shares in their portfolios.
The first check I always do when looking at a company is to see what kind of bang it is getting for its buck - its return on capital employed or ROCE. PayPoint passes this test with flying colours.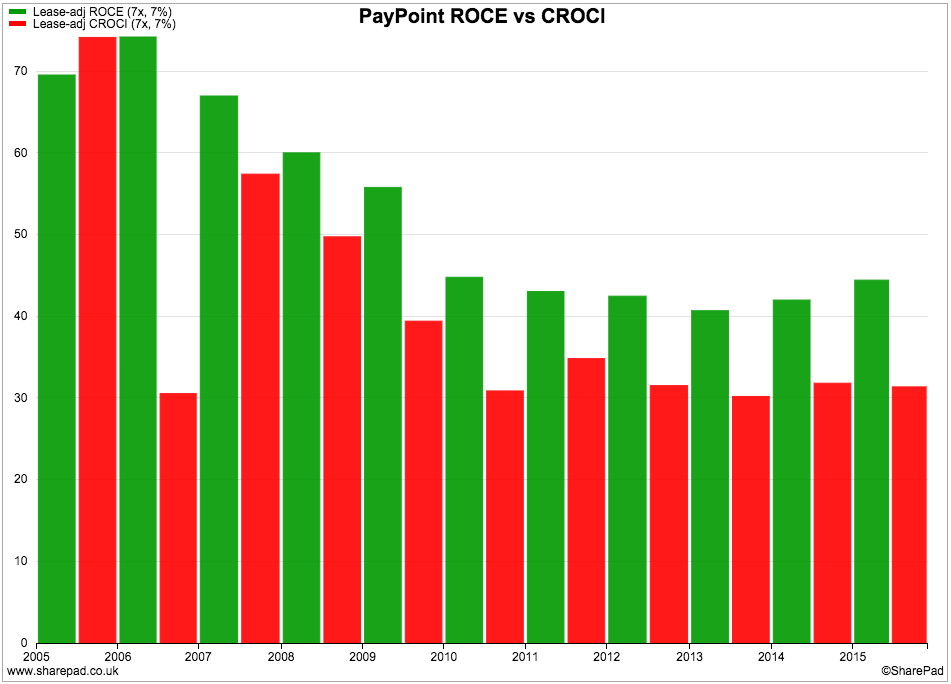 Like most technology companies, PayPoint doesn't require a huge amount of investment in assets compared to the size of its profits. This means that it is capable of making very high returns on investment. ROCE (the first or green bar) is well over 40% which is excellent. That said, the trend in ROCE has been moving steadily downwards compared with ten years ago but has stabilised in recent years.
Even more important is an ability to generate free cash flow and earn high cash flow returns (for more on the CROCI measure click here). Again PayPoint scores well. Not many companies have a consistent CROCI of over 30%. This is a sign of a very good business indeed.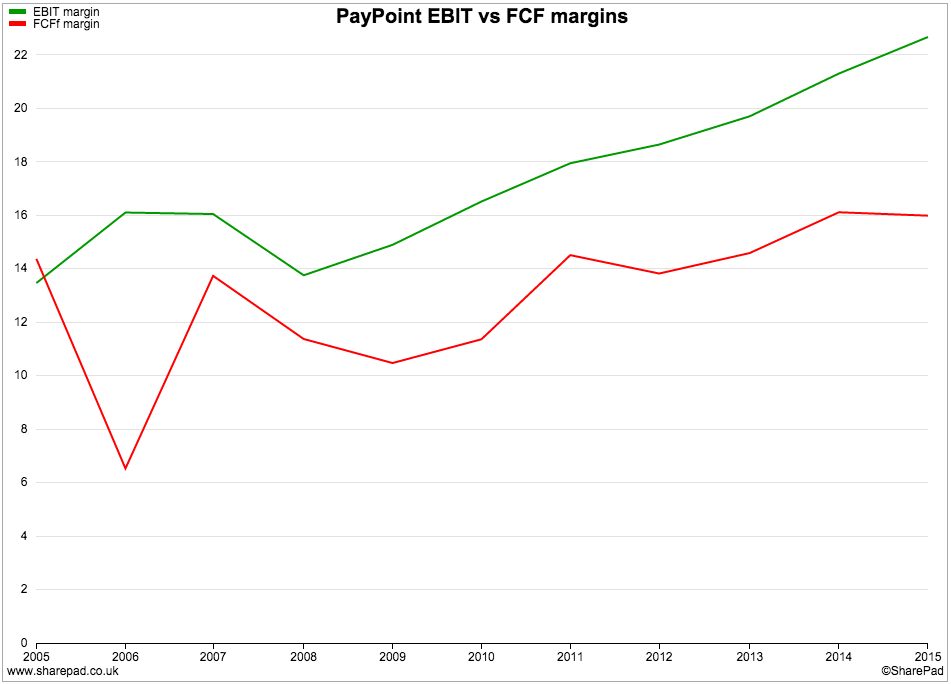 As well as looking at returns on investment, I also think that it's a good idea to look at profit and cash flow margins (how much turnover gets turned into profits and cash) as well. Companies with high profit margins can withstand a few setbacks in their trading activities a lot better than those with low margins. This makes these types of companies generally safer investments - providing new competition doesn't try to grab a slice of those profits.
Here PayPoint scores well too. Cash flow margins (free cash flow to the firm as a percentage of turnover) are around 14%, whereas profit (EBIT) margins are more than 20%. Both measures have been trending upwards which is an encouraging sign.
Now look at the chart below. PayPoint also converts a very large chunk of its after tax profits (earnings per share) - the first or green bars - into free cash flow (the second or red bars). Investors should generally take comfort when a company's profits turn into free cash flow as it is a sign that the quality of profits is high.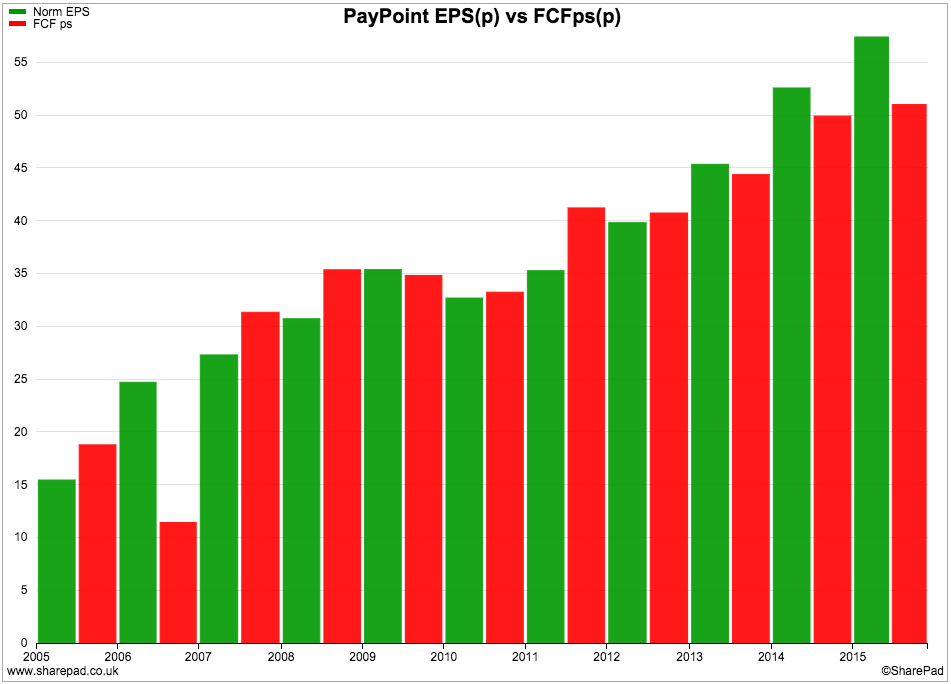 PayPoint's high levels of profitability and free cash flow in recent years have seen it pay out bigger dividends to its shareholders.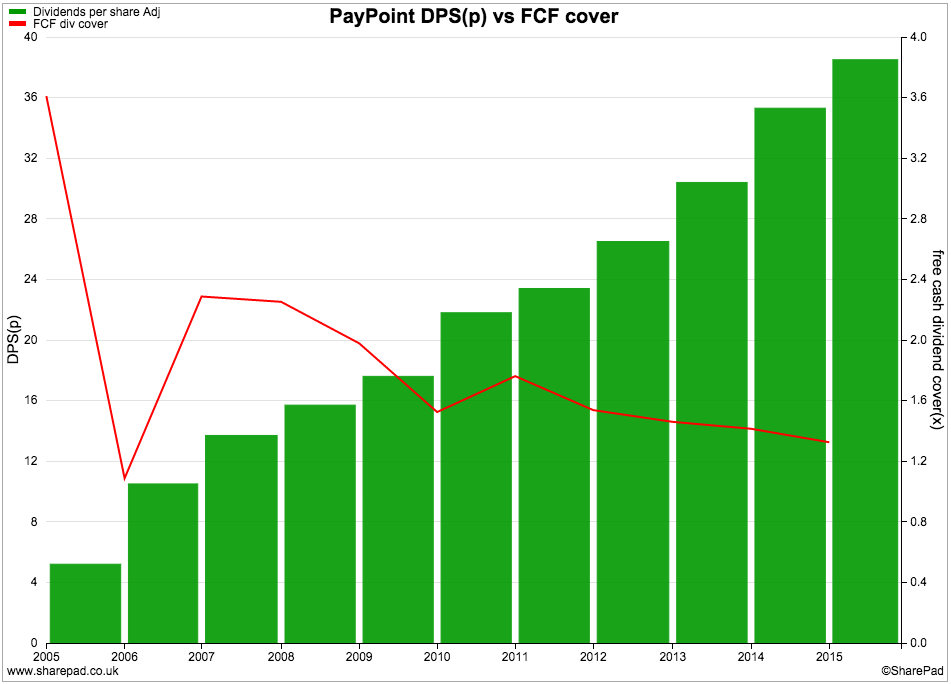 That said, the cost of the dividend is taking up a bigger chunk of the company's free cash flow. Free cash flow dividend cover (free cash flow per share divided by the dividend per share) has been trending down in recent years and needs to be watched closely. The current trailing twelve month (TTM) dividend per share of just over 40p doesn't look under threat just now, but perhaps the rate of growth will slow down.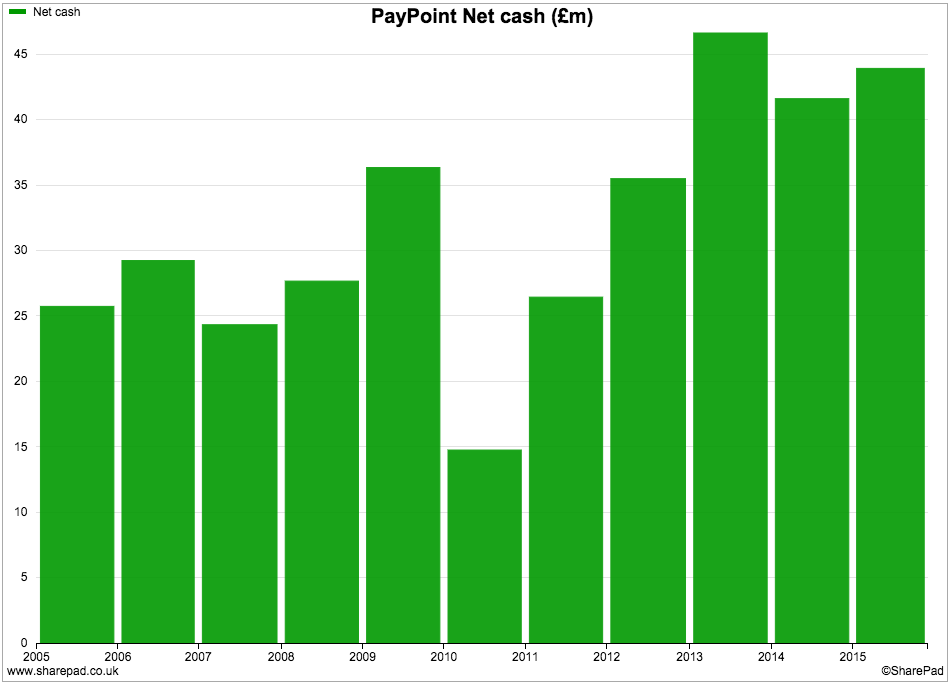 PayPoint's finances are in very good shape. It has no borrowings, virtually no hidden debt and has net cash balances of over £40m.
So PayPoint is making high returns on capital, has lots of free cash flow and what looks like a squeaky-clean balance sheet. So why are its shares falling and underperforming the stock market?