Momentum investing and the private investor - does it really work?
There's no doubt that there seems to be a lot of theoretical evidence which suggests that momentum strategies can help people make money in the stock market. That said, I don't think it is very easy for private investors to exploit it.
It seems best suited to short term traders using spread betting accounts to keep their costs lower and who have the temperament to cope with the short-term gyrations in share prices. Trying it in a long-term savings plan like a SIPP or ISA would be very expensive, time consuming and often stressful.
Like all strategies, momentum does not work all the time. Given the difficulties in buying lots of different shares, a lot of care is arguably still needed when picking momentum shares. You are not guaranteed to pick winners. Very few private investors can practically juggle a large portfolio of momentum shares which replicate the results that theory suggests have been possible.
This is essentially true of all investment strategies where the past results are based on buying a basket of shares (often a large one). Most of us can't or won't do that in practice. It therefore makes sense to do a little bit more research before buying any shares.
That said, I think momentum can play a useful role in your stock picking process. If you have owned shares such as JD Sports, Greggs and Domino's Pizza for the last year then momentum would have worked very nicely for you.
Above all else though, you need to know when to sell. It is very easy to become too greedy and hang on for even bigger gains. I see momentum investing as being very much like riding the white water rapids. You hope you can hang on long enough and not go crashing over the waterfall.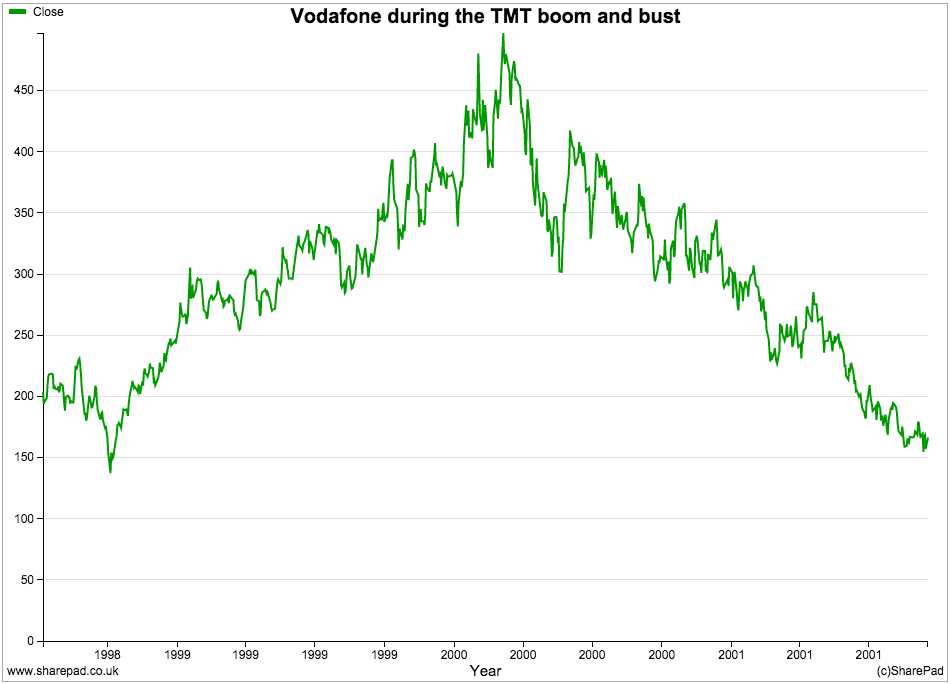 History tells us that momentum can change very quickly with shares. Vodafone (shown in the chart above) was a classic momentum share during the bubble in telecom shares during the late 1990s. Once the bubble burst, the shares fell sharply. Nearly fifteen years later, Vodafone shares trade at less than half their 2000 peak.
Even sophisticated momentum portfolios in exchange traded funds (ETFs) show that it is not easy to make money and beat the market.
The iShares MSCI World Momentum Factor ETF has beaten the MSCI World index during the last year as shown in the chart below.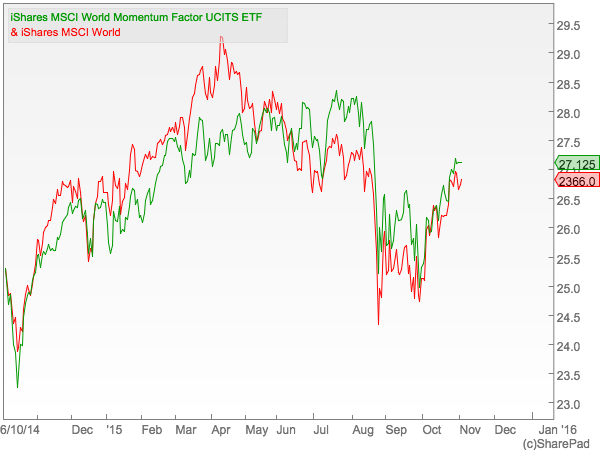 But it hasn't done so during the last three months.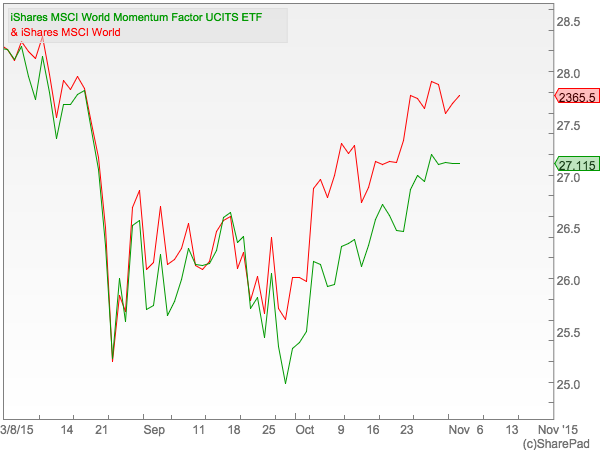 Elsewhere, the evidence is far from compelling. AQR - a specialist in quantitative investing (investing by numbers) runs a number of momentum funds. Since launching just over six years ago, the performance of the AQR Large Cap momentum fund has just matched the returns (slightly less, actually) of its Russell 1000 benchmark index.
The Powershares DWA Momentum ETF has marginally beaten the total returns of the S&P 500 index so far in 2015. Over 5 years though it has only matched rather than beaten the S&P 500.
Momentum investing in practice is not as easy as it would seem.