Building your 52 week low screen
One of the great features of SharePad is how flexible it is in allowing a user to analyse a company's finances and valuation. The same kind of flexibility exists in its filtering functions as well.
Filtering - also known as screening - is a bit like panning for gold in a river. You trawl your pan through the water and sift through the bits of grit and stone in the hope that there might be some gold. In SharePad, you can make your filter as simple or as complicated as you want. The more criteria you add, the more sifting you are doing.
It's very easy to look for shares trading at or near their 52 week lows in SharePad. Click on the filter tab on the left hand side of the screen, select quick filter and then price as shown in the box below. You can then ask SharePad to look for shares on the basis of their percentage change from their lowest price during the last year. I set this to 0%.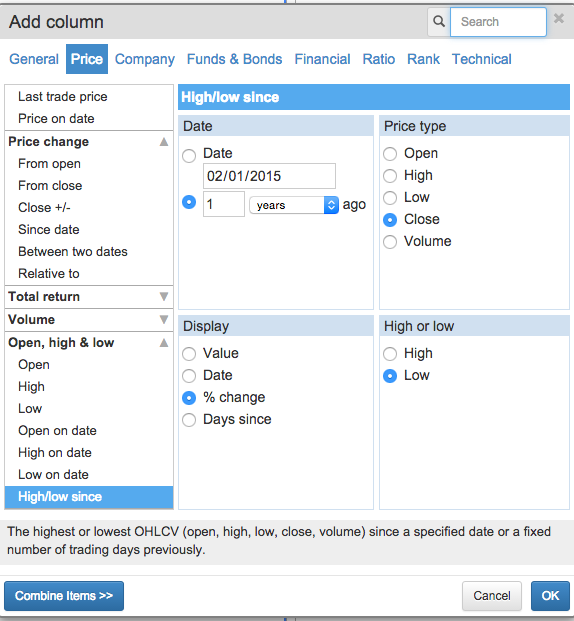 It's even easier to find shares trading at a 12 month low in ShareScope. In the List view, no matter what list is displayed, pressing the Tab key on your keyboard will cycle through the full list of shares, the new highs, the new lows and then back to the full list again.
Out of just over 2000 shares that are listed on the London Stock Exchange, there are currently 228 trading at their 52 week low.
Most of these shares are not going to be good investments. Many will be bad businesses or will have too much debt or both. To find shares that might be worth buying, you are going to have to ask SharePad to do some more sifting. How you do this is up to you, but here are some suggestions for what you can add to your filter:
Cast the net a bit wider. Look for shares that are trading within 5% of their 52 week low. These shares will still be relatively depressed.
Companies that earn a respectable return on capital employed (ROCE). I've set a minimum of 10%.
Shares that are not too expensive. Taking into account that profits might be depressed, my valuation criteria is a minimum trailing twelve month (TTM) EBIT yield (EBIT/Enterprise Value) of 7%. ShareScope users will need to use latest EBIT yield (you'll find EBIT Yield as an option under Earnings yield).
Avoid companies with too much debt. Debt is the enemy of the shareholders and could wipe them out if profits fall a long way or turn into losses. I've asked SharePad to look for companies where the net debt (debt less cash) is no more than the amount of the most recent pre-tax gross cash flow (EBITDA). For most companies, this would be a very conservative level of gearing or indebtedness. ShareScope users could filter for companies with gross gearing of, say, 25% or less.
A minimum market capitalisation of £25 million.
I've also added a column showing me how much the share price has changed during the last year. Shares that have already fallen a lot may be more interesting and less risky than those that have not.
This gives me a list of eighteen shares to look at.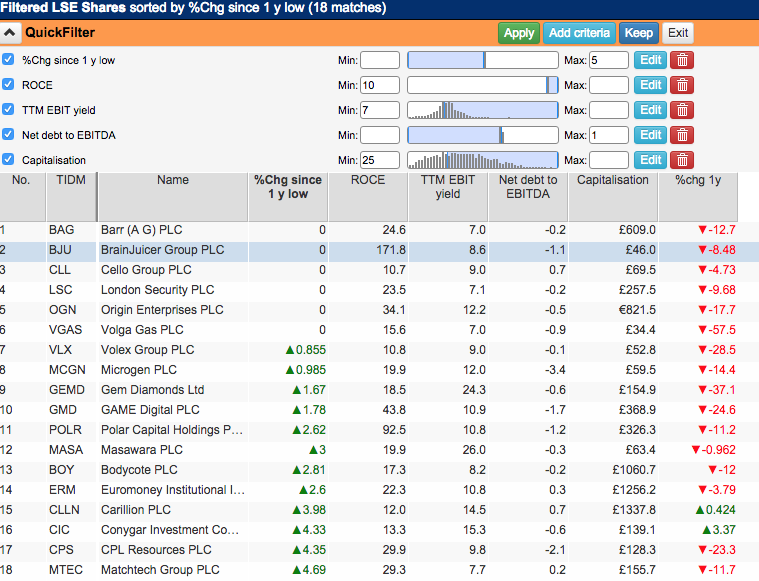 Remember, when you are using a filter it should only really be seen as a way of generating ideas for further research. Blindly buying a list of shares from a filter is not usually a good idea. Taking time to know what you are buying usually is.