Capex to depreciation
The biggest reason for free cash flow per share to be less than EPS is usually because a company is spending more on new assets than its annual depreciation expense.
Profits are calculated after depreciation has been charged as an expense. Depreciation does not represent the spending of any cash. Cash is only spent when the asset is bought in the first place. Depreciation is used to spread the cost of fixed assets (such as a building or a piece of equipment) over their useful lives. Sometimes it can be seen as an estimate of how much a company needs to spend to maintain the value of its existing assets.
Depreciation is an easy figure to manipulate. The directors of a company can - and do - boost profits - but not cash flow - by extending the useful lives of an asset. That is, by spreading the cost of the asset over a longer period, the annual depreciation charge is lower.
Capex is the actual amount of money spent on new assets in one year. This includes money spent to replace existing assets that have worn out and on assets to expand the business (such as a new factory).
Capex moves up around from year to year depending on the company's investment plans whereas depreciation tends to be more steady. This is why the change in profits from year to year are often more stable than changes in free cash flow.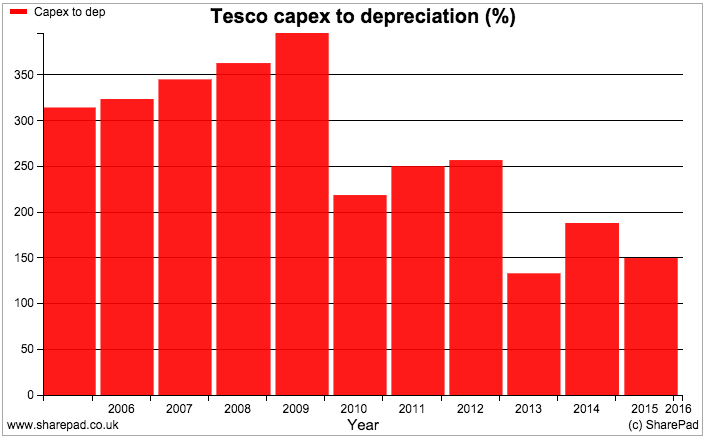 By comparing capex to depreciation, the investor can get a feel for if a company is spending too much or too little on its fixed assets. When a company is expanding, its capex will be sometimes considerably more than depreciation. However, capex that is persistently higher than depreciation for many years can be a sign that the depreciation expense is too low and that reported profits have been inflated.
In the example above, Tesco's capex has been consistently higher than depreciation (more than 100%).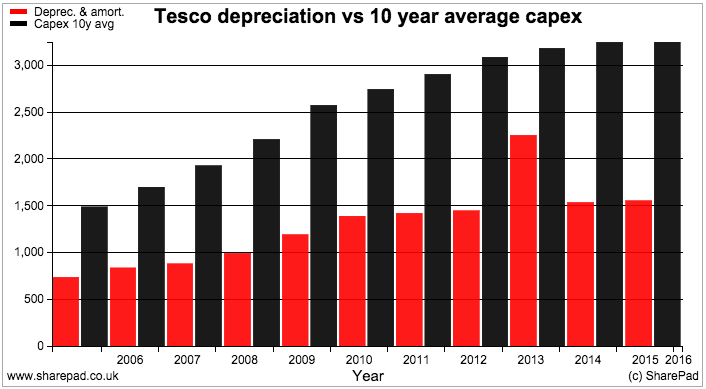 Very few companies are expanding all the time. Over a period of 5-10 years the amount of money spent on new assets can be expected to even out and could be seen as an estimate of what a company needs to spend to retain its competitive edge.
One very useful tool in SharePad is to compare the depreciation expense with the average amount of money spent on new assets over ten years. If a company's ten year average capex is considerably more than its depreciation charge it might be because it has been investing heavily. It might also be telling you that its profits aren't believable.
It also pays to be wary of companies that have lots of free cash flow but where capex has been considerably less than depreciation. On the one hand, this might be a very good sign if the company has very prudent depreciation policies but more often than not it is a sign that a company is under-investing in its business. Sooner or later it will have to replace its assets and free cash flow will take a dive to lower or negative levels.