Financial History
Before turning your thoughts to a company's future it's nearly always a good idea to look at its past. By doing this you can often spot trends that can significantly improve your understanding of how a company works and give you a good idea about what might be in store for it in the years ahead.
We can see that during its short history, TalkTalk has been able to grow its turnover modestly. This has been done by a combination of buying small telecoms companies and growing its customer numbers.
What's concerning though is that its profitability has fallen off a cliff during the last couple of years. Falling profits and profit margins have fed through to a sharp decline in return on capital employed (ROCE). In 2013, TalkTalk produced earnings before interest and tax (EBIT) of £186m and an impressive ROCE of 21.5%. In 2015, those numbers were £75m and 8.6% respectively.
The first thing to do is head for the company's 2014 annual report to see why this has happened. A quicker way to do this is to look in the news section in SharePad or ShareScope for the 2014 full year results.
On finding this information it is quickly revealed that the company spent an extra £112m on winning customers for its new TV service (a lot of this will have been marketing and the cost of subsidising set top boxes). It had yet to benefit from the extra revenue that this could bring in.
Quite often when I am analysing a part of a company's financial performance I will take some numbers from a company's annual report and study them more closely in a spreadsheet. I have found this to be an extremely useful way of increasing my understanding of a company and what issues to consider about its future. Given the big decline in TalkTalk's profitability I've decided to take a closer look at its costs and turnover between 2013 and 2015. You can see this laid out in the table below.
TalkTalk Telecom (£m)
2013
2014
2015
Change 2013-15
Turnover
1670
1722
1795
125
Gross profit(A)
919
953
980
61
gross profit margin
55.03%
55.34%
54.60%
48.80%
less:
Operating expenses
395
427
426
31
Subscriber acq costs and marketing
234
318
309
75
Total(B)
629
745
735
106
EBITDA(A-B)
290
213
245
-45
EBITDA margin
17.37%
12.33%
13.65%
As % of turnover
Operating expenses
23.65%
24.72%
23.73%
SAC and marketing
14.01%
18.41%
17.21%
What I've done here is to look at the trends in turnover, operating expenses and subscriber acquisition (SAC) and marketing costs and how they have affected profits. In this case, I am looking at profits before depreciation and amortisation costs are taken away (EBITDA).
What we can see is that there was a big jump in operating expenses and SAC's of £116m (from £629m to £745m) in 2014. Even though gross profit margins went up, these costs - especially SAC and marketing - as a percentage of turnover went up substantially leading to EBITDA falling by a whopping £77m and EBITDA margins falling by just over 5%.
Moving forward a year to 2015 and we can see that costs have actually come down slightly which is a good sign. This has allowed EBITDA and EBITDA margins to go up. However, it is clear that TalkTalk has lots of work to do to improve its profitability. In short, it needs to sell more products to existing customers and get more new customers on board. And it needs to do this without increasing its costs too much and ideally bring them down.
Why?
Because it is borrowing money to pay its current dividend.
The fall in the company's profitability has seen it paid an uncovered dividend in 2014 and 2015 - its dividend per share was more than its earnings per share. This did not stop TalkTalk growing its dividend by 15% in 2015 though. Either the company is being very reckless or it is signalling to shareholders that it expects profits to grow strongly in the future so paying the dividend won't be a problem.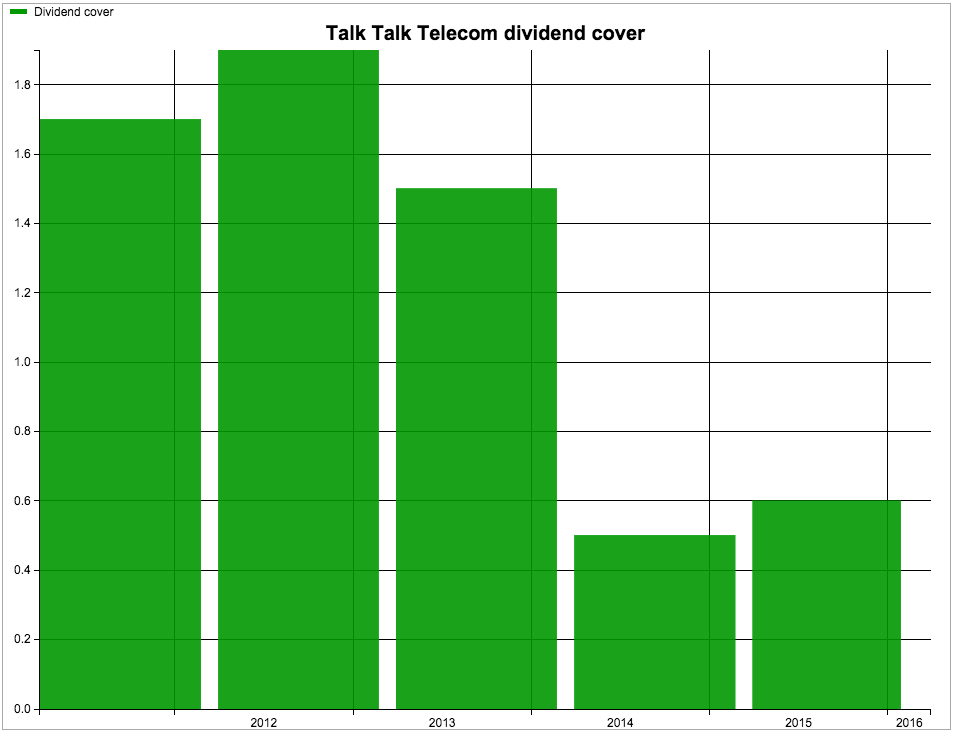 Cash flow has also taken a hit during the last couple of years. The company was generating an impressive £167m of free cash flow in 2013 (a 10% free cash flow margin) but this fell to £56m in 2015. Considering that the 2015 dividend payment cost £116m there is clearly an issue here. Unless profits and free cash flow increase significantly, TalkTalk will probably have to cut its dividend.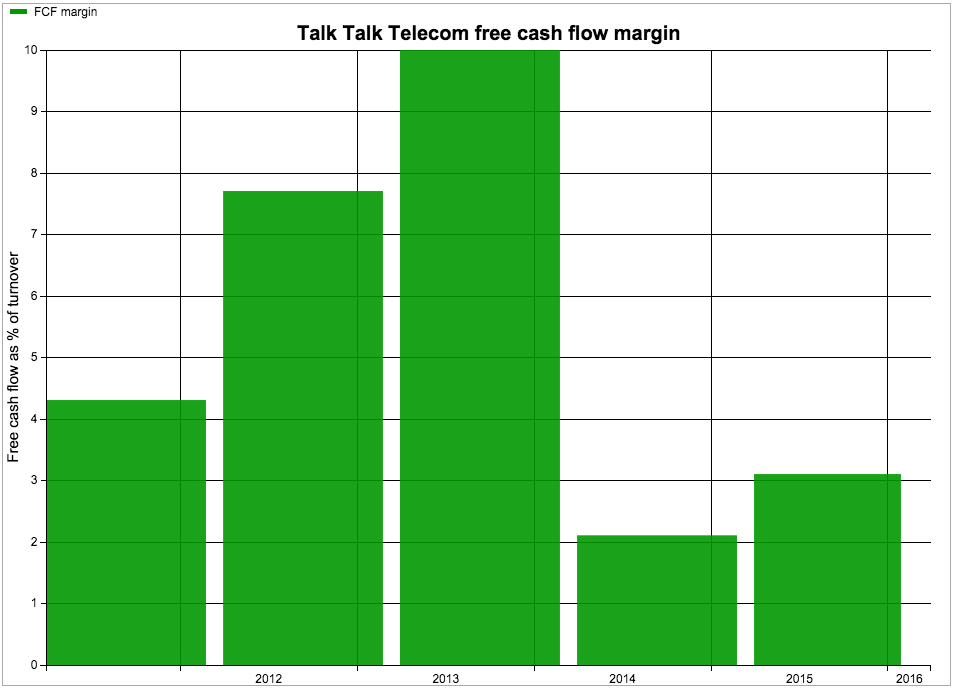 Despite the fall in profits and free cash flow, TalkTalk's finances look to be in reasonable shape. Interest cover of just over 4 times shouldn't be anything to worry about as long as profits don't fall again.

It also seems that TalkTalk is not going to have to spend huge amounts of money on new assets to maintain and grow its business. Capex as a percentage of turnover (sales) has been remarkably consistent at 6-6.5% for the last five years and the company has said that this trend is likely to continue.