Are they good value?
I've no idea what will happen to the oil price over the next few months or years. But this is the key driver of Rotork's future profits. If history is any guide then the oil price will eventually start going up again and Rotork's customers will feel more confident to invest and buy more of its products. But the huge uncertainties about future profits look like they could place a dampener on Rotork's share price for a good while yet.
Even the company seems to be a little in the dark about this year's profits as highlighted by this comment from the half year results release at the beginning of August:
"As in previous years we anticipate that our results will be weighted to the second half. Although we expect the oil and gas market to remain challenging, and the timing of order placement remains difficult to forecast, based on our current order book and project visibility, the Board expects overall performance to be in line with management expectations for the full year."
Rotork's shares have become cheaper during the last year. For the last decade they have averaged around twenty times its annual earnings per share and have often changed hands for more than this. Back at the time of the last stock market low in March 2009 you could have picked them up for just over 9 times - a real bargain with the benefit of hindsight.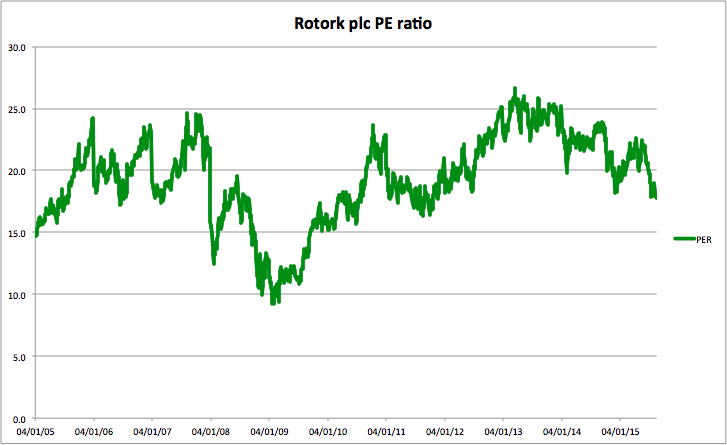 Just now the shares are trading on 17.8 times City analysts' EPS forecast of 11.7p. That's below its ten year average but in the absence of profits growth doesn't look cheap to me - anything but in fact.
| Name | Price | TTM Norm EBIT % of TTM Enterprise value | fc Norm EBIT % of Enterprise value | fc PE | PE 10y avg | fc Yield |
| --- | --- | --- | --- | --- | --- | --- |
| Rotork PLC | 206.05p | 7.59% | 7.88% | 17.8 | 20.9 | 2.5 |
Choosing a valuation yardstick is a matter of personal choice and will depend somewhat on the type of company you are looking at. My preferred valuation measure is EBIT yield which is EBIT divided by a company's enterprise value (market cap plus net debt). I like this measure because unlike a PE ratio it is unaffected by company debt levels and different tax rates. More debt lowers PE ratios and makes companies look cheaper than they really are. EBIT yield is therefore a very clean valuation measure that is good for comparing against other companies.
If possible I like to buy shares with EBIT yields of more than 10%. If a company is growing very quickly then I might lower this threshold to 7%. I don't want to pay too much for a share but realise that in most cases you have to pay up for good companies.
Rotork offers a 7.6% EBIT Yield based on TTM numbers. With strong profits growth that might tempt me but without them it's hard to see the shares as good value at the current price.
Of course, a trade buyer or an investment company with a long-term view might be prepared to buy now and wait for things to get better. On past performance, Rotork would be a great addition to any portfolio but private investors might be better off sitting tight for now.