Dividend income investing strategies
Let's take a look at some dividend investing strategies that you might consider and the main pitfalls to avoid.
Don't just buy shares with high dividend yields
It's worth reminding ourselves of what we are trying to achieve. Right at the start of the bonds article (read it here), I set out the income challenge that do-it-yourself investors are facing up to. Most of them are trying to get a better income than is available from handing their money over to an insurance company in return for a guaranteed income for the rest of their life - known as an annuity.
Here are the incomes that a £100,000 savings pot will currently buy a man just about to retire from annuity providers. Remember, anyone going down this route will - unless they buy a special type of annuity - never see their £100,000 again.
55 years old - £4,741 or an income percentage of 4.74%
60 years old - £5,181 or an income percentage of 5.18%
65 years old - £5,852 or an income percentage of 5.85%
So if you are looking to use a share portfolio for income instead of an annuity it might seem that all you have to do is to go out and fill your boots with shares paying a dividend yield (the dividend income per share as a percentage of the share price) of 5-6%.
If you open up ShareScope or SharePad you can find a list of shares meeting this criteria in a matter of seconds as shown below.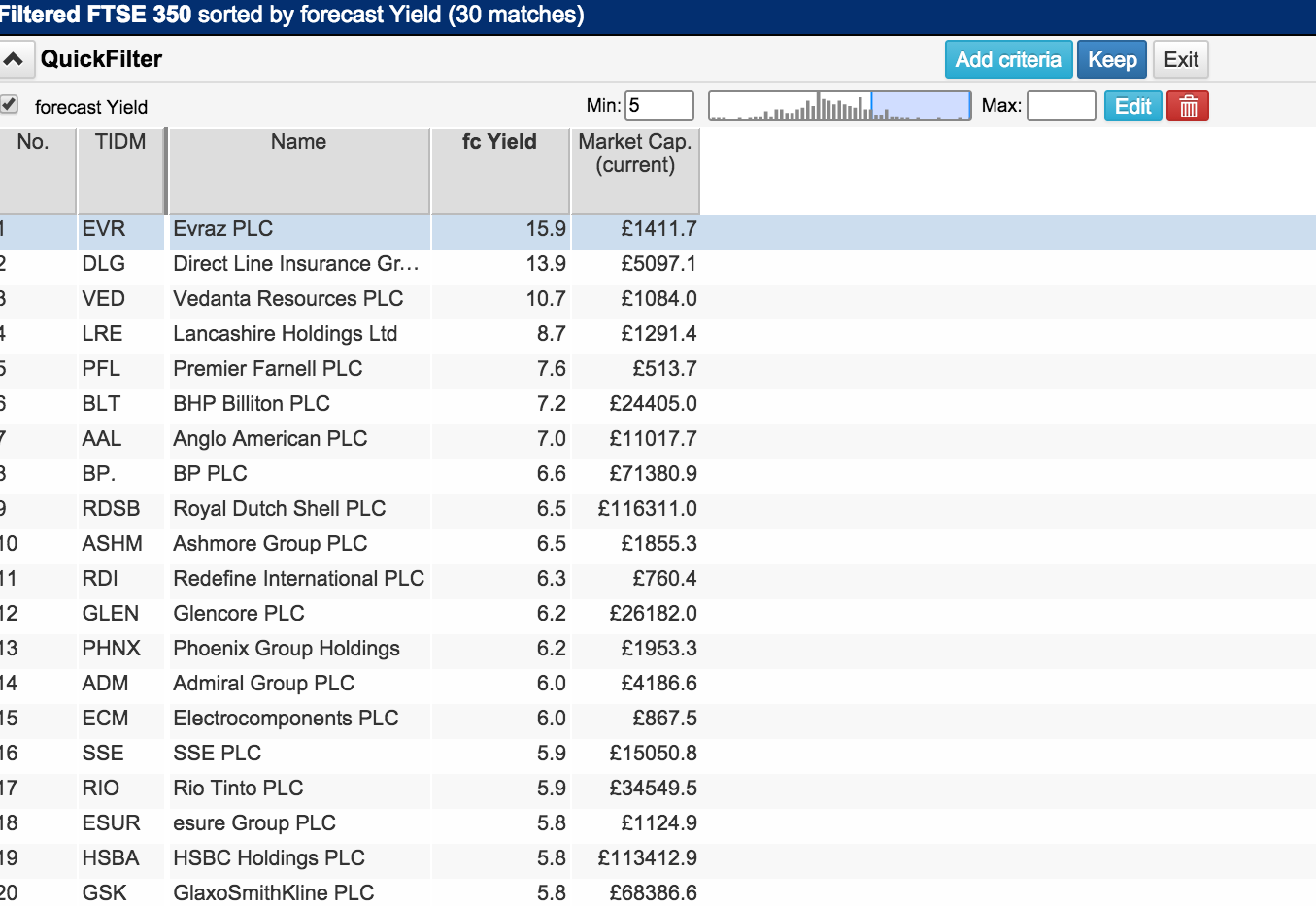 In the FTSE 350 index there are currently 30 shares with a forecast dividend yield of 5%. If you were to cast your net wider and look in the FTSE All-Share index you will currently find 51 shares meeting this criteria. Many of the companies are household names. Shouldn't you just go ahead and buy 10-15 of them, sit back and wait for the income to roll in?
Not so fast. Unfortunately life is not as simple as that. If only it was. This is the kind of scattergun approach that could land you in big trouble. There are often four major problems involved with blindly buying high-dividend-yielding shares:
The dividends aren't safe. They could be reduced or disappear entirely in the future.
Yields can be temporarily flattered by special or one off dividends and may not be a reliable indicator of income from a share in the future.
A portfolio has too many shares from the same area of the economy (there are six mining companies in the list above). This can mean that you aren't spreading your risks widely enough.
The dividends are unlikely to grow much. This could mean that the income from a share portfolio might not keep pace with increases in the cost of living (inflation).
Dividends that don't look very safe
High dividend yields are often a warning sign that the dividend is not very safe and could be cut. One quick and easy way to check the safety of a dividend is to look at the dividend cover ratio. This looks at how many times the dividend per share can be paid out of current or forecast profits. You calculate it by dividing a company's earnings per share (EPS) by its dividend per share (DPS). The higher the dividend cover, the safer the dividend payout is likely to be. If a company's dividend cover is less than one (meaning that the dividend per share is bigger than the earnings per share) then its dividend is said to be uncovered.
For example a company with EPS of 100p, paying a dividend per share of 100p will have a dividend cover of 1.0 times. If you prefer, you can think about dividend cover a different way. If you reverse the calculation (divide DPS by EPS or 1 divided by the dividend cover ratio) you get what is known as the dividend payout ratio. So the company in this example is paying out 100% of its profits in dividends. If profits can't grow in the future or fall then the dividend per share will not grow or will fall.
A safer dividend is one where the company has EPS of 100p and is paying a DPS of 40p. Here the dividend cover is 2.5 times (100/40) or the payout ratio is 40% (40/100 or 1 divided by 2.5). Profits have room to fall before this 40p dividend per share is under threat.
Let's take a look at our table of high yielding shares again.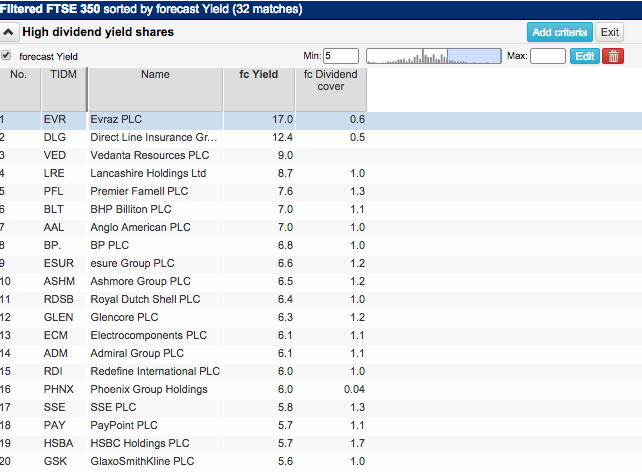 What you can see is that the dividends of a lot of these very high yielding shares don't look safe at all. The dividend cover ratios are very low or not even covered at all (the dividend cover is less than one). The shares might be expected to pay out a large income during the next year but can they be relied upon to do so in later years?
The chunky dividend payouts expected from the likes of Evraz or Direct Line are essentially double the level of expected EPS and probably unrealistic or one-off payouts. This is telling you to do some digging and find out what's really going on here.
Too many eggs in too few baskets
It's a good idea when you are building a dividend income portfolio to spread your money around. Being reliant on too many shares from one sector of the economy might cause you problems if that sector hits hard times, profits fall and dividends are cut or scrapped.
It makes sense to own at least 10 and preferably 15 shares from different parts of the economy. By doing this you are spreading your sources of income around and this can help you to lower the risk that the income from your share portfolio could fall sharply in tough times.
Looking at our list of high yielding shares it is virtually impossible to spread your money around well. A large number of these shares come from depressed sectors such as mining, oil and gas and financial companies - hardly the basis of a sensible income portfolio.
Dividends that will struggle to grow
Companies with low levels of dividend cover (or high dividend payout ratios) can find it hard to grow their dividends in the future. If profits don't grow then there is little or no room to keep dividends growing. In fact dividends are more likely to fall as even a small fall in profits can make the current dividend unaffordable.
This is what seems to be the case with many of the shares in our list of high yielders. I've used SharePad to calculate the expected growth rate in dividends over the next three years as forecasted by City analysts. It is comparing the forecast dividend in three years' time with the most recent annual dividend per share.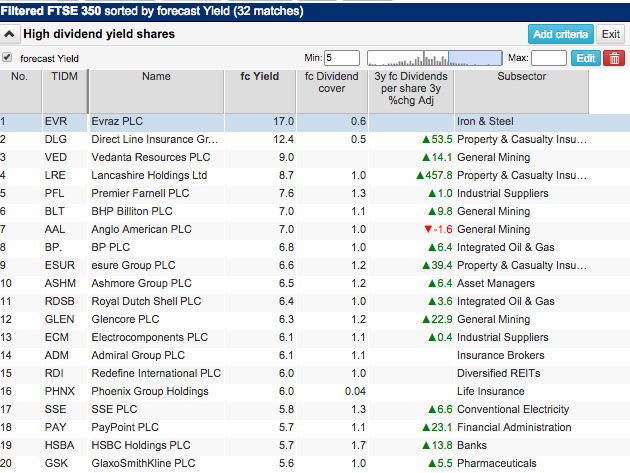 As you can see from the list of the top twenty highest yielders, the expected growth in dividend payments is expected to be quite sluggish. Companies such as BP, SSE and Glaxo are good examples of this. Some dividends are expected to be lower. It seems that whilst you can get a high yield on some shares there is a price to be paid in terms of lower future growth or even a lower dividend income.
Some shares look more interesting at first glance but a little digging around can tell you what's going on. For example, Direct Line's very high forecast yield looks to be based on the expectation of a sizeable, one-off special dividend. Excluding this, its yield would be around 3.5%. That said, it is expected to grow its underlying dividend at a healthy rate going forward. Lancashire holdings, another insurance company, has a high yield and high dividend growth rate. But this is due to the fact that it didn't pay a special dividend in 2014 but is expected to in future years. What you need to try and avoid is buying a share with a high yield due to a special dividend that will only be paid once. When you are looking at dividend yield, always try and work out what the value of it is based on the underlying dividend - the one that is based on a company's current profits.
Also bear in mind that analyst forecasts can often be wrong and too optimistic. To be a good dividend investor, you really need to research the company and satisfy yourself that the dividend is safe and that the outlook for future profits can allow it to grow.
The risk of buying a portfolio of high yielders similar to the ones in the list above is that the income you will get from your portfolio isn't going to grow much and won't be much different from what you might get from an annuity (you do keep hold of your money though). It might therefore be worth considering a different strategy.