A seasonal business
Let's now take a look at a company where profits are seasonal.
easyJet (LSE:EZJ) is a very successful airline business but it makes most of its money in the spring and summer months - from March to September - when its planes are full of holidaymakers. During the quieter autumn and winter months it doesn't make much money at all. In fact, in previous years it has actually lost money during this period.
So when the company reported its half year results to March 2015 and it made a small profit compared with a loss in the period a year earlier, investors were happy. But they wouldn't have known anything about its TTM performance on reading the results statement.
Let's have a look and see what's going on.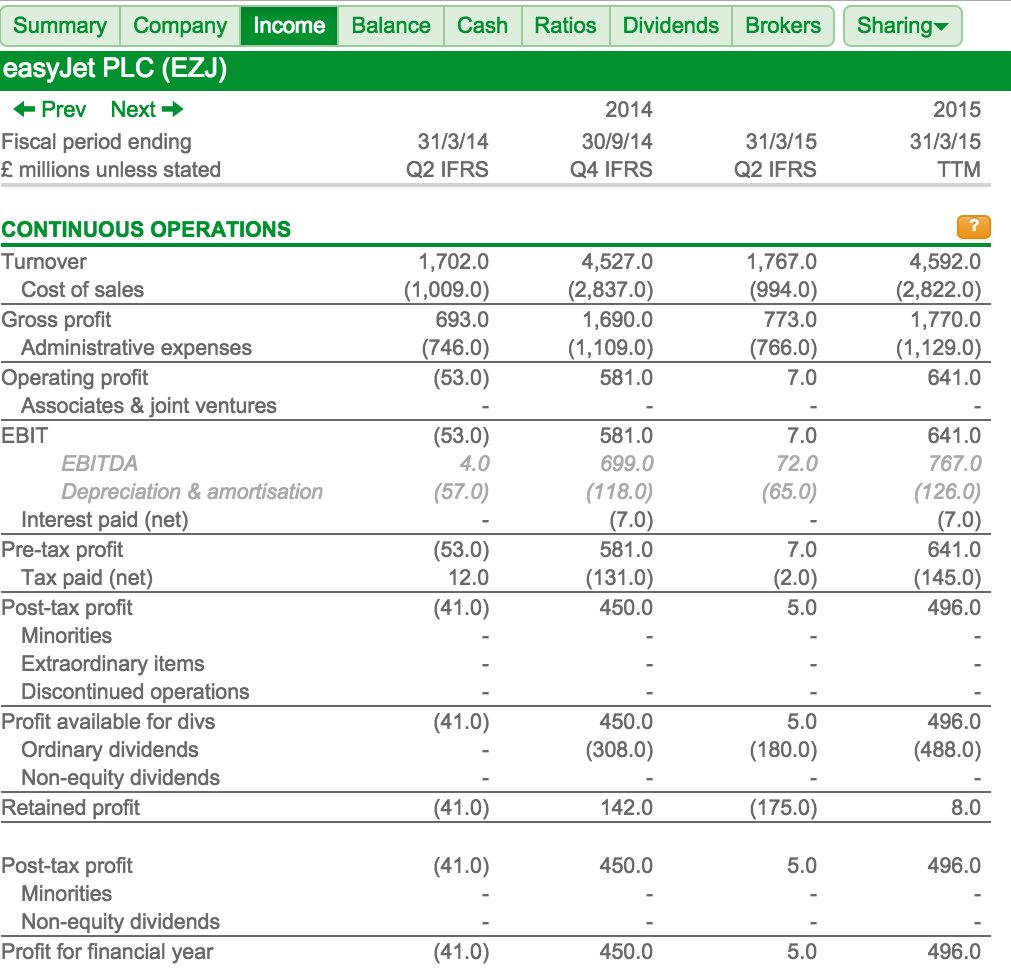 Here we can compare the last annual results from September 2014 (30/9/14) with the TTM numbers to March 2015. It makes for very encouraging reading. What we can see is that annual sales have increased by £65m from £4527m to £4592m and that most of that extra turnover has ended up as extra profit. EBIT has increased by £60m from £581m to £641m.
We can also look at easyJet's financial ratios on a TTM basis to see if they are getting better or worse. This is where TTM numbers can give you a real insight into whether a company is changing. You can't easily do this by looking at quarterly or half year numbers alone.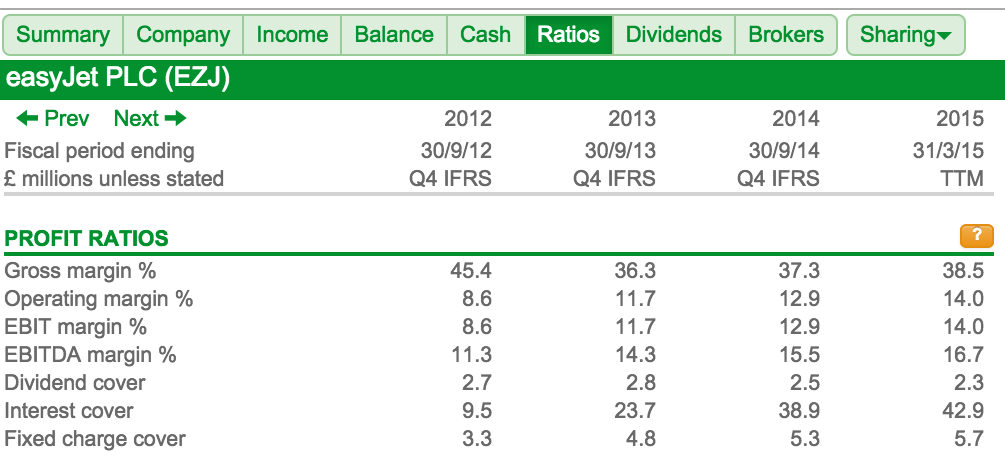 Here are easyJet's profit ratios for the last four years. Its profit margins are going up nicely with TTM margins higher than last year and continuing the recent trend of higher margins. Fixed charge cover - a key ratio of financial strength for an airline that leases its aircraft - is a very comfortable 5.7 times and is on an improving trend.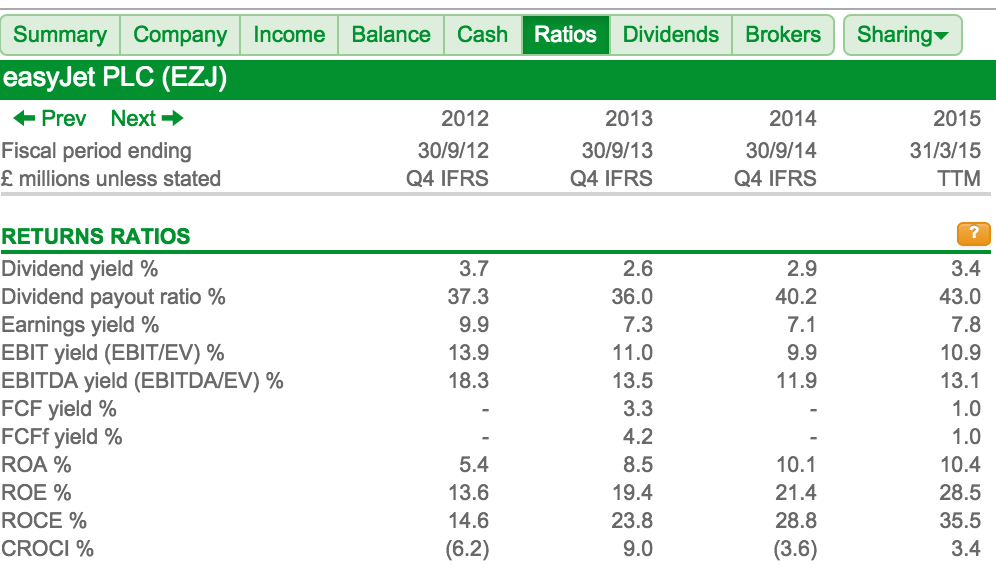 ROCE of 35.5% is also higher although this does ignore the fact that aircraft are rented rather than owned. This tends to give a much higher ROCE because the rented aircraft are not on easyJet's balance sheet) but an increasing ROCE is an encouraging sign.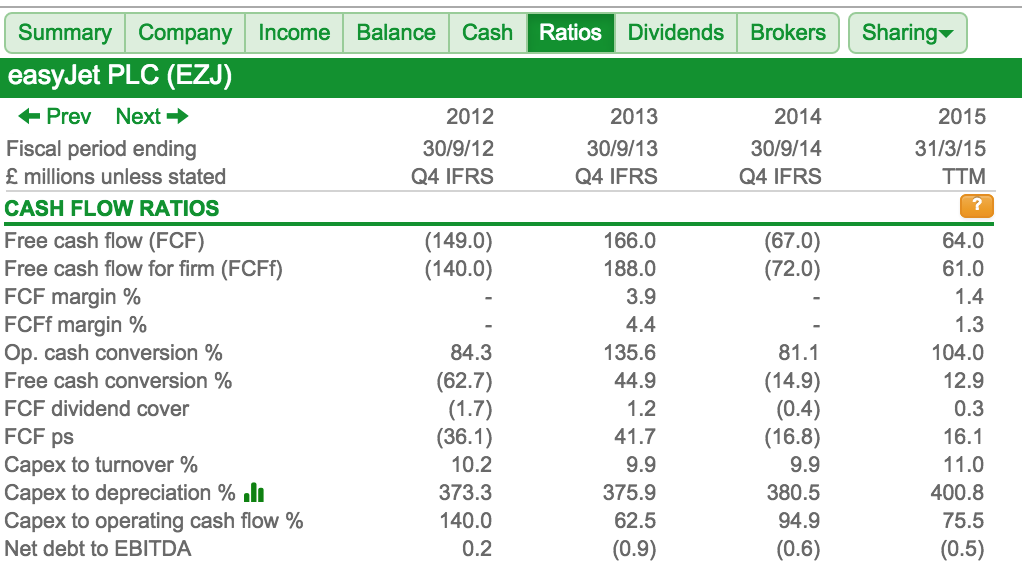 One potential negative aspect of easyJet's performance is its poor free cash flow. This is explained by very high capital expenditures compared with depreciation. This ratio is rising and is now over 400%. This needs to be investigated. A potential investor in easyJet shares needs to know why this number is so high. Is the company investing heavily for future growth or are its profits overstated? (to read more on this subject click here).