Simple is best - Magic Formula Investing in 2017
If you were to ask me to recommend just one book on investing then I would struggle to think of anything better than Joel Greenblatt's book 'The Little Book that beats the Market'. It is very easy to read and is not very long. The book does a great job in convincing the reader that investing really doesn't have to be complicated.
The beauty of Greenblatt's 'Magic Formula' is its simplicity. It boils down to two very simple but powerful components of successful investing:
Buying high quality companies - defined as ones with a high return on capital employed (ROCE).
Buying cheap companies - ones with a high earnings yield.
Nearly two years ago I started a trial of three model portfolios based on Joel Greenblatt's Magic Formula approach (click here to read more about this). I wanted to see how this strategy would work in the real world and with all investing costs such as commissions, stamp duty and bid-offer spreads (the difference between the buying and selling prices of a share) taken into account as many studies of investment strategies ignore these costs.
The other criterion was to have portfolios that were based on something that a sensible private investor might be able to do in practice. A portfolio of 20 shares is just about manageable for most investors although the costs of buying and selling shares every year does mount up and reduces returns
I like the Magic Formula but do have some issues with it. Namely because it ignores the impact of the following:
Intangible assets.
Significant liabilities such as pension fund deficits.
Hidden, off-balance sheet debts due to rented assets.
I feel that in its simplest form, the Magic Formula ignores cash outlays made by companies and flatters the ROCE of companies that rent rather than own assets.
The three test portfolios were set up with £100,000 of money invested in twenty shares from different sectors of the stock market - rather than the unbalanced portfolios that the Magic Portfolio can sometimes suggest - to see which one would perform the best.
These portfolios were based on:
A simple Magic Formula approach based on Greenblatt's book.
A lease-adjusted version where the ROCE calculation and earnings yield were adjusted for pension fund deficits and hidden debts.
A lease-adjusted earnings yield - buying cheap shares regardless of quality.
In 2016, all three portfolios made more money than the FTSE-All Share index which delivered a total return of just under 17%. The Lease-adjusted Magic Formula and EBIT yield portfolios trounced that with returns of over 40%.
2017 is not quite over yet but as this is my last article of the year, I thought I would take a look at how these portfolios have been getting on.
We are delighted that Phil Oakley has been honoured with the Investors Chronicle
Editor's Award for Services to Private Investors 2017
We are also very pleased to announce that ShareScope/SharePad has been voted
Best Investment Data Provider 2017
by readers of Investors Chronicle
Thank you everyone who voted for us
---
Phil Oakley's debut book - out now!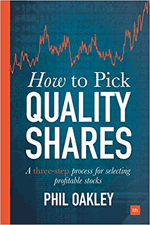 Phil shares his investment approach in his new book How to Pick Quality Shares. If you've enjoyed his weekly articles, newsletters and Step-by-Step Guide to Stock Analysis, this book is for you.
Share this article with your friends and colleagues: