Step 1: Understand the businesses that pay the dividend
As well as scrutinising a company's financial performance it pays to try and understand how a company makes its money. This is the first thing that I do when looking at any company. If you can't gain a reasonable understanding of this then move on to another company where you can.
My first task is to work out how SSE's profit is made up from different businesses. You can take the numbers from the latest financial report in the News section (RNS, 20/05/15) and work this out for yourself. You do this by dividing the profit for each business by the company's total profit.
Here's what it looks like for SSE: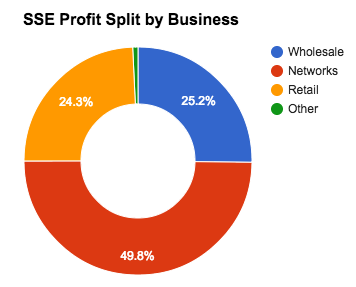 I can see that profits come from three main businesses. The next step is to understand what makes these businesses tick and how they have been performing. You do this by spending some time reading the company's financial reports. If you want to find out more information then a visit to the company's website is often time well spent.
This financial information is taken from the company's latest financial report. Looking at these numbers and reading what the company has to say about them is the most straightforward way of understanding a business.
| Operating profit by business (£m) | 2015 | 2014 | 2013 |
| --- | --- | --- | --- |
| Wholesale | 473.8 | 634.6 | 508.6 |
| Networks | 936.8 | 920.3 | 838.3 |
| Retail | 456.8 | 327.1 | 445 |
| Other | 14 | -1.9 | -12.9 |
| Total operating profit | 1881.4 | 1880.1 | 1779 |
The first thing to note is that total operating profits barely changed in 2015 and are not much higher than they were two years ago. That's not an encouraging sign. We need to find out what's been going on by looking at each business separately.
Wholesale (25.2% of profits)
This business has seen a sharp fall in profit. It consists of power stations that generate electricity from coal, gas and wind as well as gas fields in the North Sea and gas storage facilities. The main reason for the big fall in profit was a sharp fall in gas prices which saw North Sea profits collapse last year. Profits from power generation also fell as the company sold less electricity and cited "difficult market conditions".
Will next year be any better? Maybe. The company says that its wind farms should sell more electricity which should boost profits. However, the profits it will make from its gas and coal power stations and North Sea gas fields is a lot less certain. Long-term profits from wind farms - where SSE has been investing a lot of money - are also heavily reliant on government subsidies which could change.
What seems clear is that the profits of the Wholesale business have the potential to move up and down a lot. This may not be the kind of business that can be relied upon to support a stable and rising dividend.
Networks (49.8% of profits)
This business is doing well and is growing its profits. In simple terms it owns and looks after networks of wires, pylons and pipes which move electricity and gas from where they are produced to homes and businesses.
The amount of money that Networks can make is set by a regulator (OFGEM). In return for looking after the network assets and doing a good job for customers, SSE can be reasonably certain of how much profit it will make from this business. With extra investment in network assets, profits from this business should be very stable and continue to grow. This is exactly the kind of business that underpins SSE's dividend and it is good news for shareholders that it makes up nearly half of the company's profits.
Retail (24.3% of profits)
Selling electricity and gas to households and companies is a controversial business. The profits made by companies have been a political football in recent times. For some people, it seems that any amount of profit is unreasonable.
SSE's profits recovered this year and got back to the levels of two years ago. This was achieved by cutting costs and being more efficient. On a more worrying note, the business lost half a million customers last year. Lower gas prices are likely to reduce profits next year.
Like Wholesale, Retail seems to be a business where profits jump around a lot. It is difficult to see this business growing profits when customer numbers are falling and politicians and the media scrutinise them so closely.
To sum up, half of SSE's profits look to be in good shape. The other half is subject to much more uncertainty. That's probably not that reassuring if you want your dividend payment to keep on growing.