Any signs of aggressive accounting?
One of the first checks of profit quality is to see how good a company is at turning its underlying (normalised or adjusted) earnings per share into free cash flow per share. As you can see, RPCs cash conversion has not been too impressive recently but capex (investment in new fixed assets) has been relatively high and can explain some of this.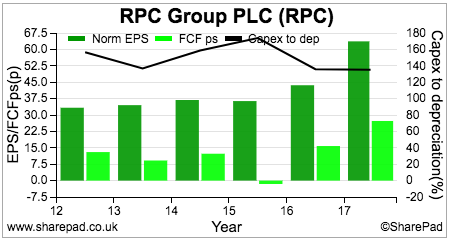 In more need of closer inspection is the very large amount of exceptional and non-underlying items that RPC has excluded from its own calculation of underlying operating profit. These are shown in a screenshot from the company's latest annual report.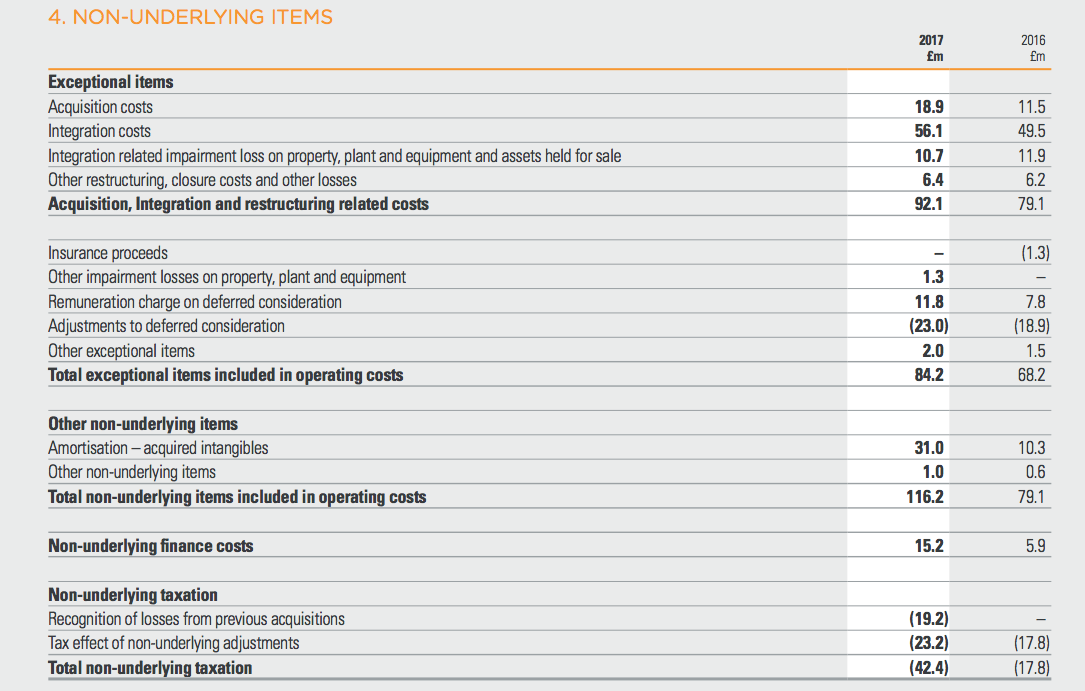 RPC has excluded £116.2m of costs from its calculation of £308m of underlying operating profit. This equates to 37.7% of underlying profits and to me seems like a huge number. In 2016, the comparisons were £79.1m and £174.3m or 45.4% of underlying profits - even bigger. You can see that this kind of magnitude has been commonplace for the last few years.
| Year | Underlying EBIT (£m) | Operating exceptionals (£m) | % of EBIT |
| --- | --- | --- | --- |
| 2017 | 308 | 116.2 | 37.73% |
| 2016 | 174.3 | 79.1 | 45.38% |
| 2015 | 131.6 | 48.4 | 36.78% |
| 2014 | 101 | 28.1 | 27.82% |
| 2013 | 89.7 | 36 | 40.13% |
I don't think I can remember coming across anything like this before and must admit to being quite shocked. But does this mean that something dodgy is going on at RPC?
I have no idea as these large costs could be legitimate but if I was a shareholder in this business I would be asking the management to explain them in detail to me. Acquisition costs, integration costs and other restructuring costs total £81.5m and the vast majority of these will end up as cash flowing out of the company and a reduction in company value.
Removing the amortisation cost of acquired intangible assets - things such as brands, intellectual property and customer contacts - from underlying profits is worthy of a separate article. I know some investors and analysts who argue that they can be ignored.
I understand this, but also have some sympathy with the view that brands and other intangibles may require some money spending on them to maintain their value. Our data provider does not exclude them from its calculation of underlying (normalised) profits.
The large recurring exceptional items mean that there is a consistently big difference between underlying EPS (which ignores them) and reported EPS (which doesn't). I never like to see this with any company and need to see a very good explanation to justify it.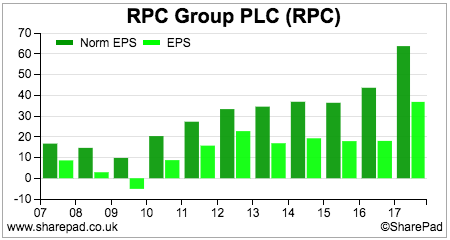 One of the other calculations I often do is an estimate of cash operating profits (operating cash flow less depreciation and amortisation) and compare it with underlying operating profits. Here you can see that there is a significant gap between the two numbers.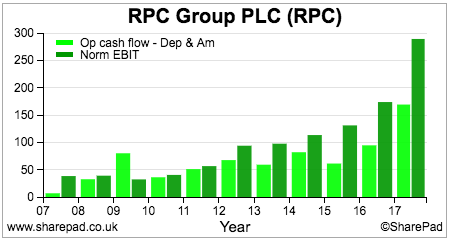 Normal changes in working capital outflows - by this I mean changes in line with sales growth - are fine but cash exceptional costs are a real reduction in value. With acquisitive companies such as RPC these have been both significant and regular in recent years.
The Beneish M-Score is a formula which tries to get an indication as to whether a company might be manipulating its profits. An M-score of greater (less negative) than minus 2.22 suggests that there may be something untoward. The current score for RPC is -1.85.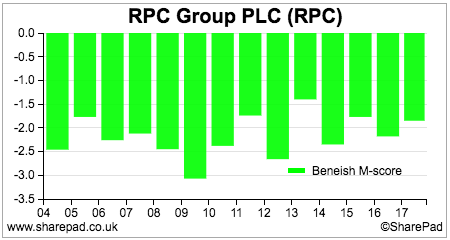 I think that there is a lot going on within the accounts of RPC but cannot definitely say that anything irregular is happening. I do see some red flags, particularly with the issue of large exceptional items. It will take many further hours of studying the accounts for an investor to reassure themselves in my opinion.