Whitbread (LSE:WTB)
(Disclosure: At the time of writing Phil Oakley owns shares in Whitbread)
Whitbread has been investing heavily in new Premier Inn hotels, Costa Coffee shops and Costa Coffee Express machines. This has led to significant growth in earnings but at the expense of free cash flow as the chart above shows.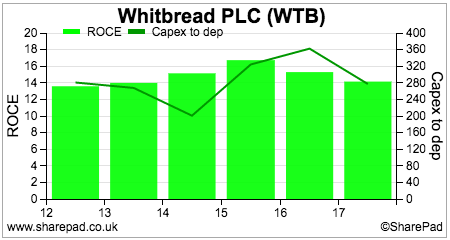 ROCE has held up well which is reasonably reassuring. However, ROCE has trended down for the last two years. Is this a sign that Whitbread is earning lower returns on new assets or that the profits on existing ones are being competed away?
One of the key signs I look for in a capex-heavy company is to see if all the investment in previous years is producing an increase in trading cash flow coming into the company. This along with the trend in ROCE is a sign that the company is getting some kind of return on its investment.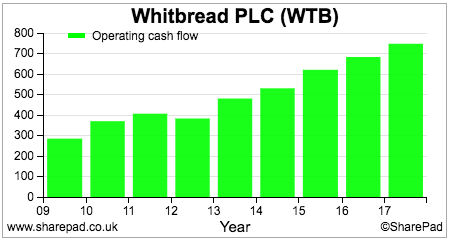 In Whitbread's case, operating cash flow has been trending up which is a good sign. However, you need to look at the sources of operating cash flow. Ideally, you should look at cash flow before working capital changes as working capital is rarely a sustainable source of cash flow.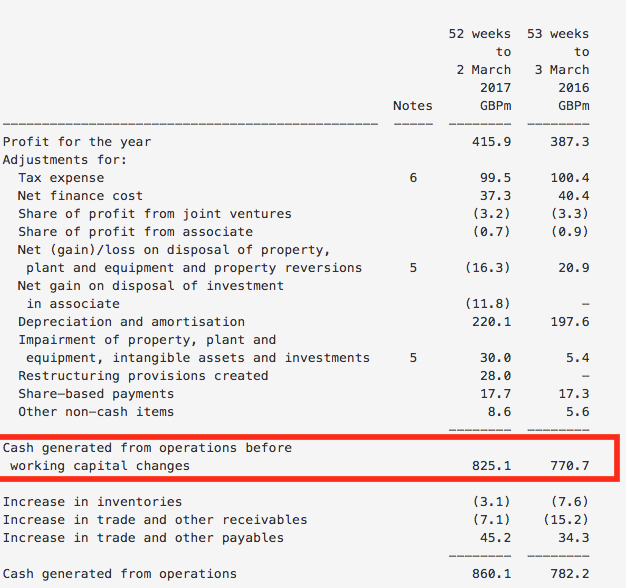 The good news is that on this measure cash flow is improving for Whitbread. (You might want to check out the asset impairments and restructuring provisions as well to see if that is a source of trouble). This is a sign that underlying cash generation is reasonably good.
So what about the ability of the future investment pipeline to generate growth?
This seems reasonable too. Capex in 2017/18 is expected to be £650-£700m. The company believes that it is on track to grow the number of UK Premier Inn rooms from 68,000 today to 85,000 in 2020 and ultimately to 100,000. It wants to grow the number of Costa Coffee shops from 2218 to over 3,000 and keep on increasing the number of Express machines.
If ROCE on these new investments can match current levels then Whitbread could have materially higher profits in the future and become a more valuable business than it is today. The key risk is that profit margins come under pressure (Costa margins came down in 2016/17) and ROCE falls. This is what the current lacklustre share price seems to be factoring in.