How useful is the M-Score?
Beneish revisited his M-Score in 2008 as a trading strategy. He ranked companies by their M-Scores between 1993 and 2003. Companies with the healthiest M-Scores were bought and the least attractive were shorted (they were sold with the hope of buying them back at a lower price to make a profit). The strategy produced annual returns of 14%. Using the five variable model M-Score produced returns of 14.8%.
The M-Score could be a useful trading strategy, but it's important to remember that it's very rare to find something that works all the time in investing. There are very few hard and fast rules when it comes to measures such as this. Like most ratios or formulas I think they are best used as a way of finding things to investigate and in this respect the M-Score could be a very useful part of your investing toolkit.
You can find a company's M-Score in seconds in SharePad and ShareScope. I've set up a quick filter for shares in the FTSE 350 below and asked SharePad to give me a list of companies with an M-Score of more than -2.22 which would put them into Beneish's danger zone.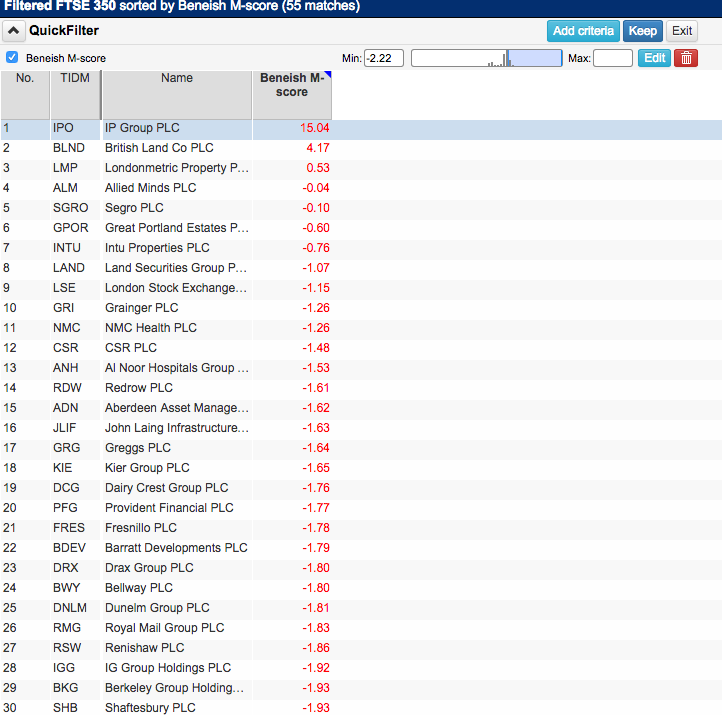 According to SharePad there are 55 companies which are more likely to be manipulating their profits. I've listed the top 30 here. This is a surprisingly big number. Surely this can't be true? These are big companies covered by lots of professional analysts who would have spotted that something wasn't quite right, surely?
I think it's unlikely that all these companies are manipulating their profits. Having said that, it doesn't mean that there aren't plenty of cases of aggressive accounting out there.
Based on my experience of being a professional analyst, I know that lots of my peers never really got into the nitty-gritty of checking whether the profits were believable or not. And even if they did find something wrong it probably wasn't in their best interests to say too much about it. Companies and professional analysts don't tend to like analysts who peddle bad news.
So, just because a company is reasonably big it doesn't mean there cannot be anything amiss with its profits. I came across many companies whose profits were signed off by their accountants but in reality did not seem to make much sense.
I think the M-Score can be a useful test to see if something is not quite right with a company's profits. You should see it as being similar to a blood test in a human where lots of diagnostic screens are run to check for problems. You then investigate further based on what the test tells you.