Magic formula shares for 2017
I am going to carry on with these portfolios for 2017. Whilst I am not saying that investors should blindly follow a formula approach, screening for shares that meet the Magic Formula criteria may throw up some interesting individual ideas.
The other interesting aspect of testing investment strategies is that the results can help investors learn about what type of strategy might work in certain types of market conditions. I therefore think it is a useful thing to do.
The most important thing to remember with screening strategies is that you need to go all in. The success of screens like Greenblatt's Magic Formula is based on the assumption of buying a basket of shares.
In most years, the basket will contain winners and losers. So if you just pick one or two shares from the basket - like STV for example - you could pick a big loser. You might also pick a big winner but as an investor you should be looking to reduce your risks.
There are two main ways you can reduce your risk when investing in shares. One is to buy lots of shares so that your portfolio is not dependent on the fortunes of one or two shares. This spreads your risks but also tends to dilute your potential returns. If you own too many shares because you are frightened by the risks involved then you might as well buy a cheap index tracking fund instead.
The second - and better - way is to concentrate your portfolio into a smaller number of shares (say 10-15). You then reduce your risk by focusing your investments on high quality companies and not overpaying for them. This requires a bit of time and research.
So if you want to use the screen as a way to find investment ideas, you should subject your list of stocks to a reasonable level of analysis before buying. Using the Carousel on SharePad's Financial Summary view should be the absolute minimum.
A very important point to realise with Greenblatt's Magic Formula is that its results are based on only the most recent values for a company's ROCE and earnings yield. This can mean it qualifies by having a temporarily high ROCE or that its shares have a high earnings yield (they look cheap) because it has poor growth prospects.
Let's take STV for example, a look at its long-term ROCE chart would tell the investor that it is a cyclical business. Reading its annual report would also show you that the business was very reliant on advertising revenues which are very dependent on the fortunes of the economy.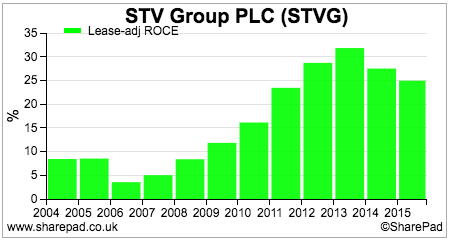 Its 2014 and 2015 ROCE figures look to be at or close to a cyclical peak and have started to trend down. This would probably have been enough to put me off buying STV as an individual investment rather than part of a basket.
Now on to 2017's list of shares.
The 2016 ending values of all three portfolios will be rebalanced into 20 equal-sized investments in the shares shown below. I will provide an update on their progress at the end of June.