Creating an EPV filter
To get the most value out of any filter, it helps to understand what the numbers behind it actually mean. By understanding and focusing your research efforts on key bits of information, you will be able to make more sense of filters and make better investment decisions, not just buying blindly on the basis of numbers.
We have seen that a company's EPV is determined by the following variables:
Its trading profits (EBIT)
The taxes it pays on its profits
The interest rate required by investors - known as the discount rate or required return.
The value of liabilities such as debts and pension fund deficits.
The number of shares in issue.
Changes to any of the above will change a company's EPV. However, by far the most important thing to work out is the likely direction of EBIT. In most cases you want to know if it is going to stay stable or, hopefully, grow.
SharePad helps you with this. As well as looking for shares trading below their EPV value you can add an additional criteria which finds shares whose forecast EBIT is expected to be higher than the latest reported value.
If you are a SharePad user, I've included a section at the end which shows you how to add the two criteria required for this filter.
As of Wednesday 19th October 2016, the filter contains the following 20 shares from the FTSE All-Share: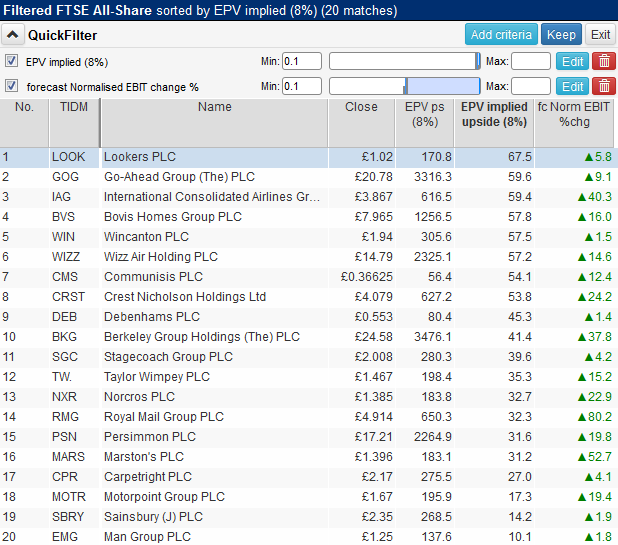 As you can see, many of the companies listed above have uncertainties regarding their future profits. For example, housebuilding is historically a cyclical sector where profitability has peaks and troughs. The same can be said for airlines, retailers and car dealerships. Yet all the 20 companies listed are expected to post a higher EBIT in the next full year reporting period.
Has the stock market been too harsh? Let's take a closer look.