Working capital and the financial analysis of companies
Working capital is an important number which can tell you some useful information when you are analysing companies.
The things that you need to keep an eye are the trends in working capital as a percentage of turnover. Turnover is the key driver of a company's stock, trade debtors and trade creditors.
SharePad calculates the following working capital ratios for you (on the Ratios tab). You can also create a financial chart for them.
Stock as % of turnover
Trade debtors as % of turnover
Trade creditors as % of turnover
Working capital as % of turnover
Let's take a closer look at Fevertree as an example of working capital analysis.
Fevertree sells bottles and cans of tonic water all over the world, so you would expect it to have some stock in its warehouses.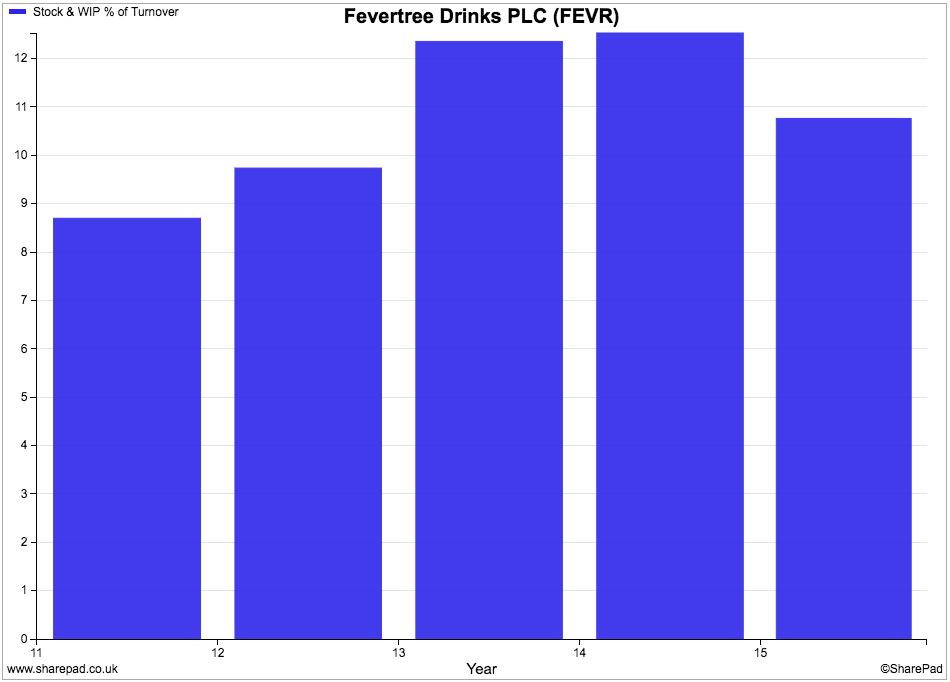 We can see here that Fevertree's stock was just over 10% of its turnover in 2015 and that the ratio has seen a reasonable decline from 2014. Back in 2011 it was just under 9% so it has increased a little since then but there have been no dramatic increases which is a good sign.
Remember, an increase in stock means more capital employed (more of a company's cash resources used up). A big increase in the amount of stock as a % of turnover can be a bad sign as it might take longer to turn it into cash. In order to do this a company might have to reduce the selling price of its stock which will lead to lower profits.
Retailers have this issue every year at Easter, Bonfire Night and Christmas when they need to avoid being left with unsold stocks of Easter eggs, fireworks and Christmas card. This stock either has to be held for another year (impossible for food items), sold off cheap or written off.
Let's turn to trade debtors as a % of turnover.
Fevertree has debtors equivalent to 24% of turnover. This is quite a big number and needs watching.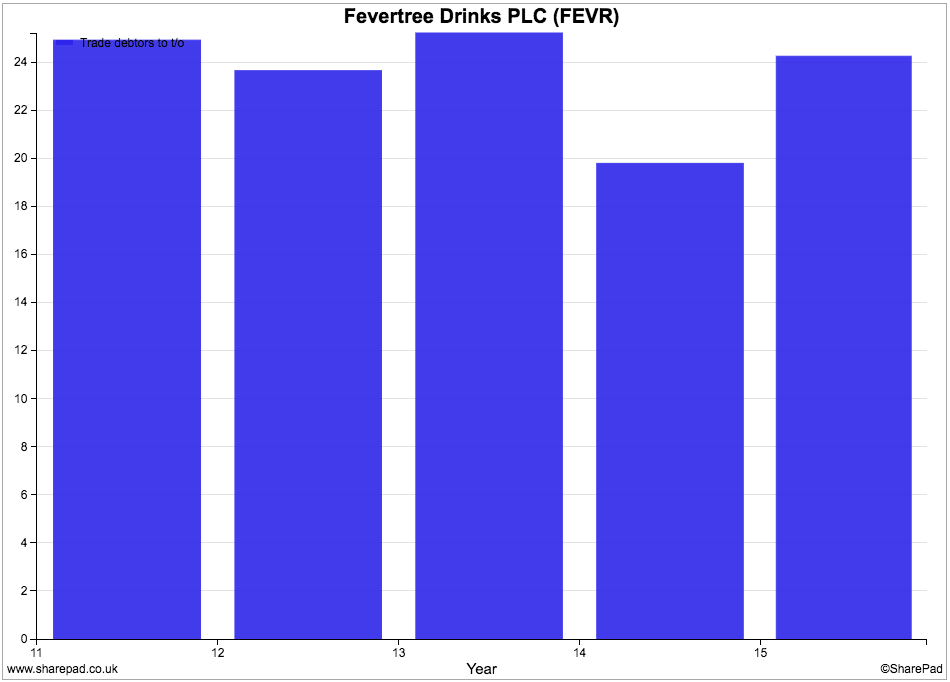 A company can offer more generous credit to its customers in order to boost sales. This is also quite normal for a young company such as Fevertree which is trying to grow quickly.
However, the more debtors a company has the bigger the possibility that some of them will go bad. Customers might not pay their bills in full or at all. These outstanding debtors will need to be written off which will reduce company profits.
Fevertree can try and offset the working capital tied up in stocks and debtors by taking longer to pay its trade creditors and increasing them as a % of turnover.
As we can see in the chart below, this ratio has remained quite stable but did increase in 2015, suggesting that Fevertree might have gained some bargaining power with its suppliers to help finance its business.