Financial returns
The chart below probably best explains why Sage is well-liked by investors. The company has consistently high returns on capital employed (ROCE) and free cash flow returns on investment (CROCI).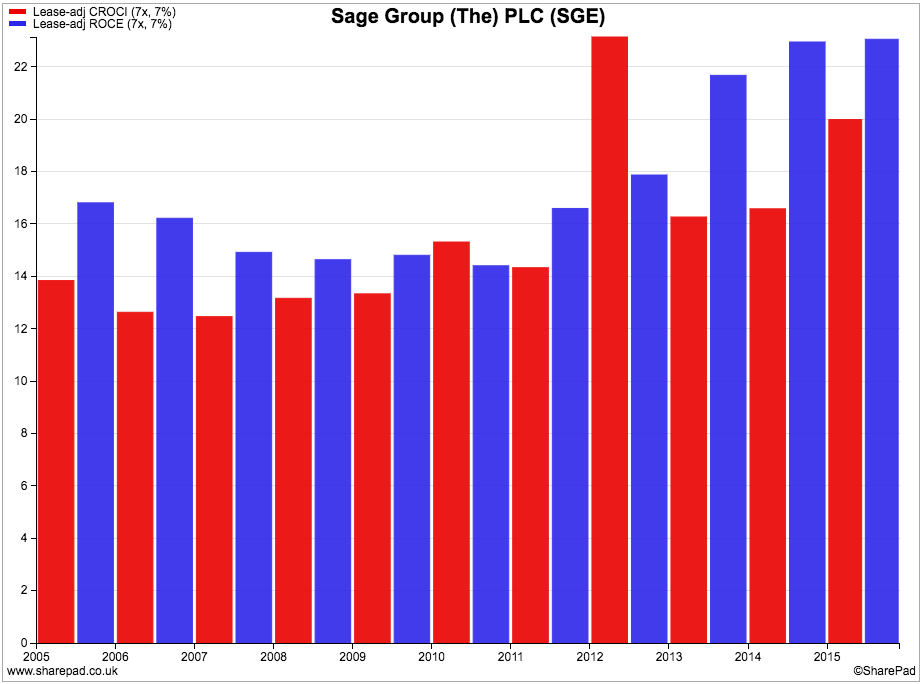 The trend is also upwards which is encouraging. Sage's ROCE is over 20% which is the hallmark of a very good business. CROCI of nearly 20% in 2015 is also very impressive - anything consistently over 10% is a good number.
Over the last decade, Sage's ROCE has averaged 17.7% with CROCI averaging 15.7%. You won't find many companies that have been able to perform like this. It seems fair to say that Sage looks a consistently good business and one that understandably many investors have been happy to own a slice of.
If we dig a little deeper into Sage's ROCE performance we can also learn some interesting facts. As you can see from the first (red) bar in the chart below, Sage's margins have been declining slightly in recent years.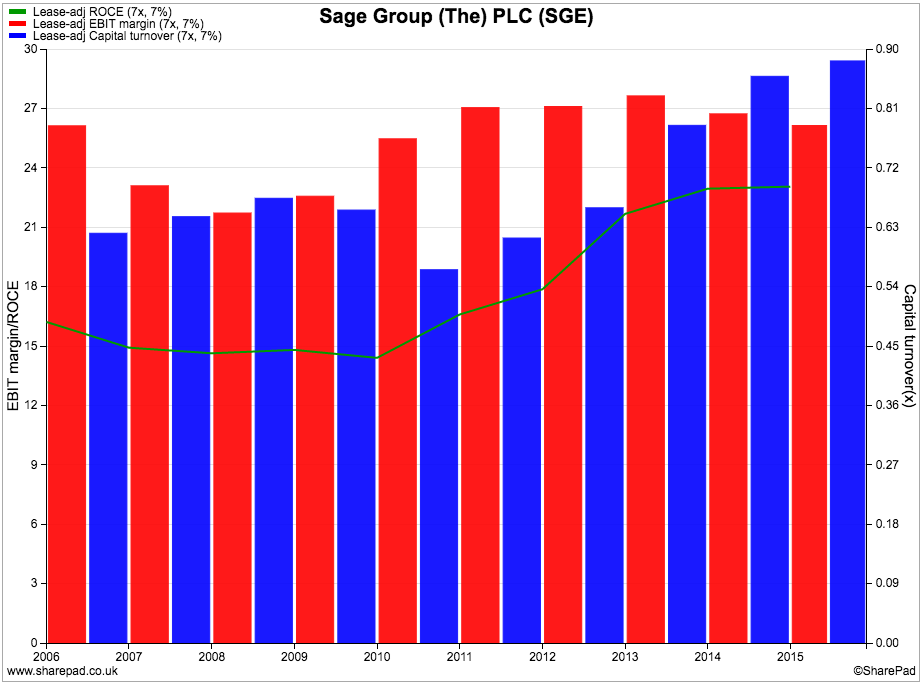 What we can see is that ROCE has been rising due to increased capital turnover. Sage is selling more per £1 of capital employed. Margins however have been falling in the last few years.
A closer examination of Sage's accounts shows that the company has been reducing the amount of money invested in its business and is becoming more efficient - it is doing more with less. If you look at the chart below, you can see that Sage has significantly reduced the capital employed in the business.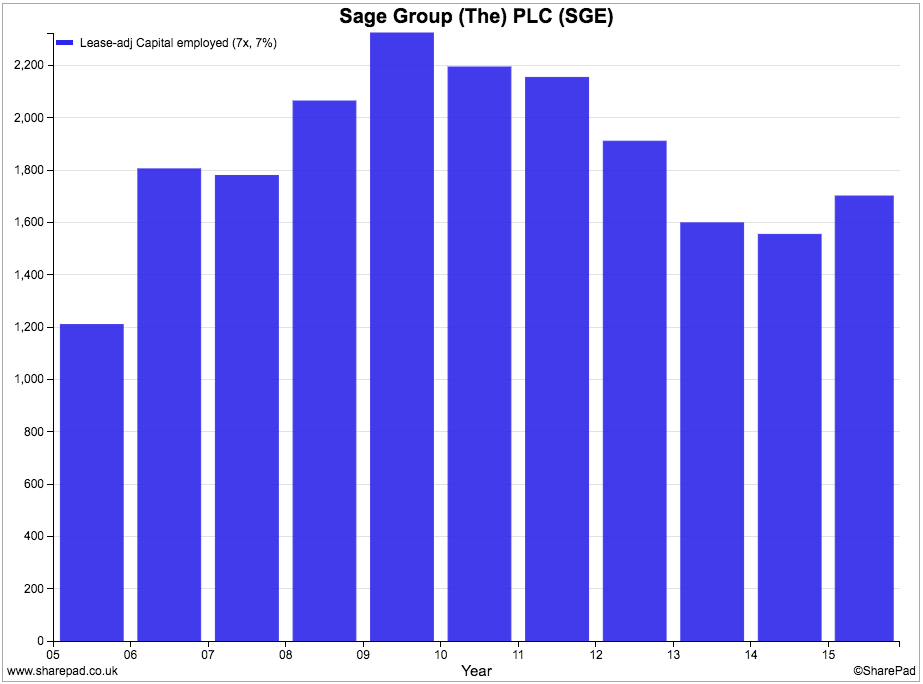 This is to be welcomed but it is important to note that this cannot continue indefinitely. To keep on increasing ROCE in future years, I think it's reasonable to assume that Sage is going to have to increase its sales whilst maintaining or increasing its profit margins.
Investors will need to watch the trend in operating margins closely. If they continue to fall as they have been then increases in ROCE might not be too easy to achieve.
Sage spends a significant amount of money on researching and developing new products in order to maintain and improve its competitive edge.
As you can see from the chart below, Sage consistently spends more than 10% of its sales on research and development (R&D). This ratio is very important and needs to be watched.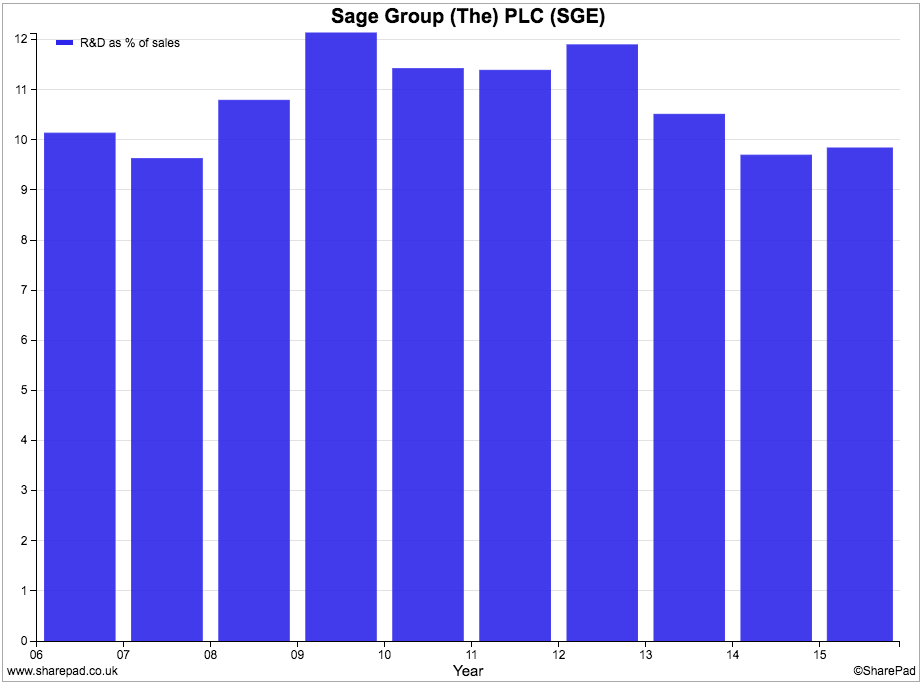 What you want to see is a steady level of spending to show that the company has not become complacent and stopped innovating. Also watch out for a falling ratio as cutting back on R&D can be an easy way for management to boost profits.
You can see that the ratio has fallen by around 2% between 2012 and 2015. Other things being equal, this would have boosted Sage's profit margins by 2% yet Sage's EBIT margin fell from 26% to 25.2%. Have costs increased elsewhere, or is this a sign that Sage's margins are under pressure?