Free cash flow for shareholders
As with CROCI above, you can see that AG Barr's free cash flow (blue bars) has been erratic as has its free cash flow margin (black line). This needs more investigation as variability in free cash flow can be a bad sign.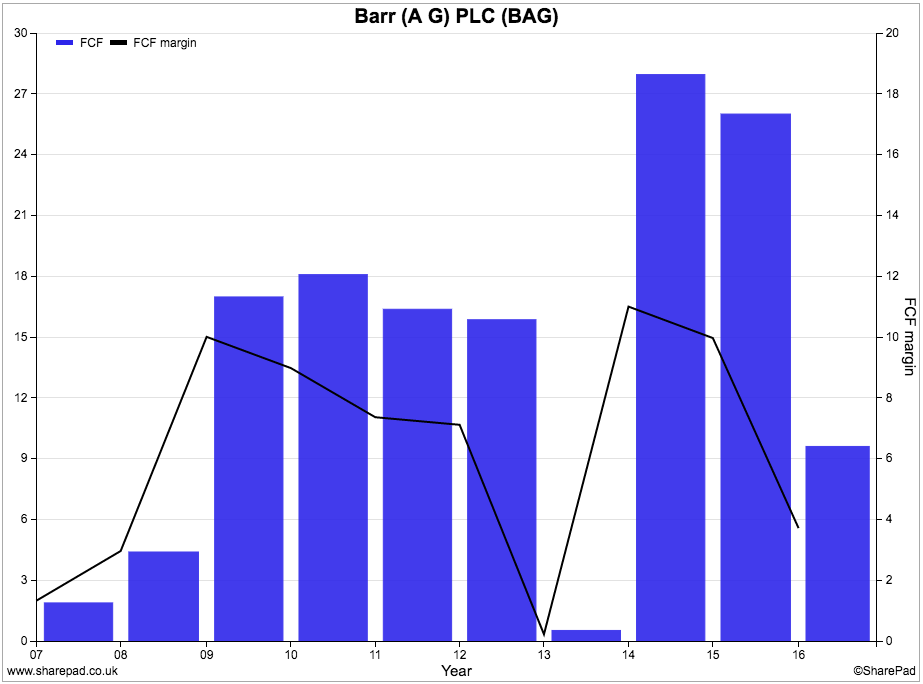 The chart below looks at AG Barr's free cash flow conversion - how much of its earnings per share (red bars) is turned into free cash flow per share (blue bars). You can see that free cash conversion has been a bit lumpy.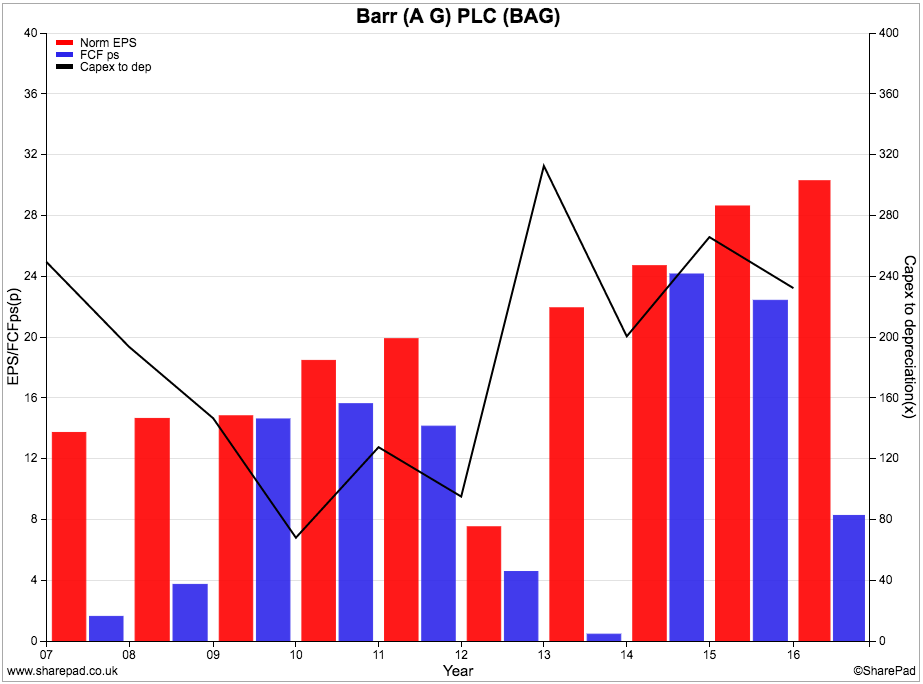 The black line on the chart represents capital expenditure (capex) as a percentage of depreciation. It ranges from about 70% to nearly 320%.
This is telling us that the amount of money the company spends on new assets has often been more than the annual depreciation expense which is one reason why the amount of free cash left over is so low.
That's normal for companies that are growing as they often need to expand manufacturing facilities to cope with growing demand. Even so, the gap between Barr's EPS and FCFps can be so large that it makes me think something else could be going on.
In its annual results news release back in March, the company provided a very useful free cash flow statement. A screenshot of this is shown below. This kind of information is always useful and more companies should think about providing it too.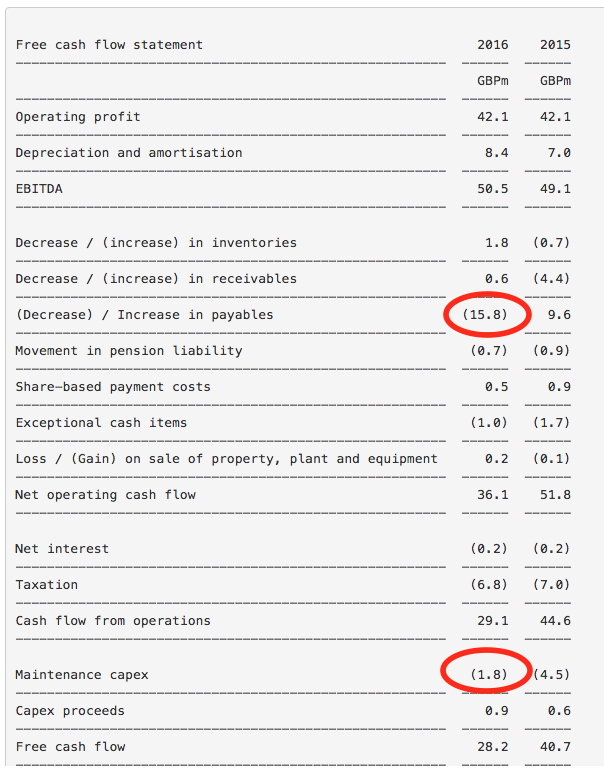 I have highlighted two interesting numbers above. The lower number highlights the very small amount of maintenance (or stay-in-business) capex declared. This is very low compared with depreciation and amortisation and is probably a sign of temporary tight cash management rather than conservative profits. In other words, I think this is more a case of holding back on maintenance capex rather than over-stating depreciation (and under-stating profits).
The number further up the page shows a very large cash outflow from paying the company's suppliers - shown as a £15.8m decrease in payables.
The company gives a good explanation of this cash outflow which should reassure investors that its suppliers are not putting a squeeze on the company by making it pay its bills faster than before:
"2015/16 has witnessed a significant increased cash outflow within payables as the phasing of supplier payments at the end of the current year combined with an unusually high level of opening capital payables brought forward from the prior year. We continue to pay suppliers on time and in full."
That said, I never take anything a company says for granted and decided to take a closer look at AG Barr's recent working capital performance in SharePad.
The chart below looks at the changes in creditors, debtors and stock that show up in the company's annual cash flow statement. Any bar pointing upwards is a sign of cash flow into the business - a good sign - whereas bars pointing down show cash flowing out - not so good.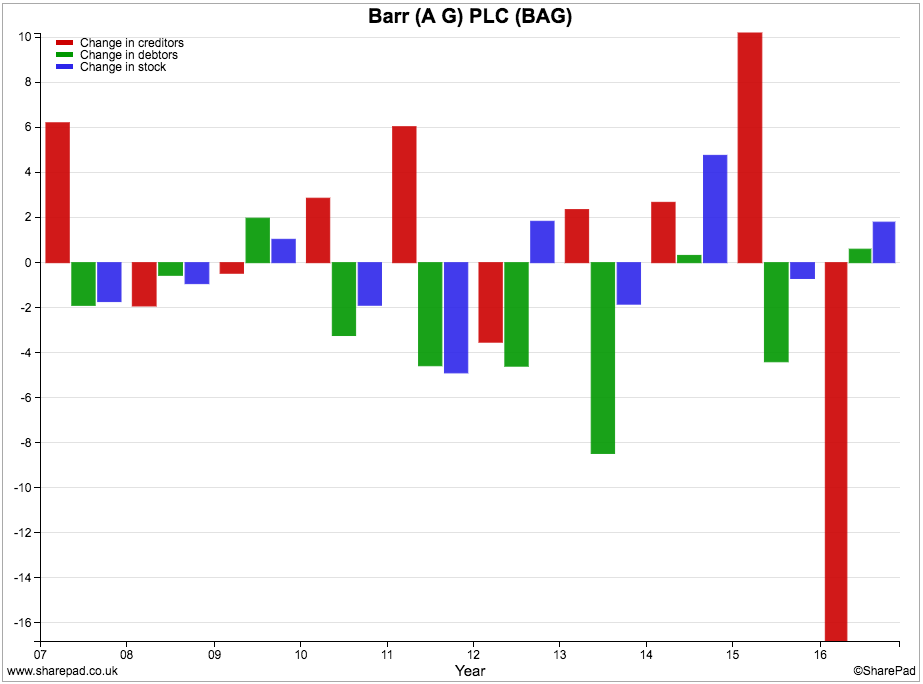 What you should be focusing on here is the trend in cash flows. It is not unusual for the company to see working capital outflows but last year's creditor outflow was preceded by a big inflow from that source in 2015.
What has happened here is that the company delayed paying suppliers in 2015 and got a cash flow benefit from it. This year it had to pay these outstanding bills. These kinds of reversal are very common. I don't think there is anything too much to worry about here.
However, if we look at the ratio of working capital to sales (below), we can see that it has been increasing and has spiked up since 2013. This means that Barr has had to use more cash to support ongoing levels of sales i.e. more cash has to be tied up in the business.

The lumpiness in its free cash flow means that the company has not always generated enough free cash flow to pay its total dividend.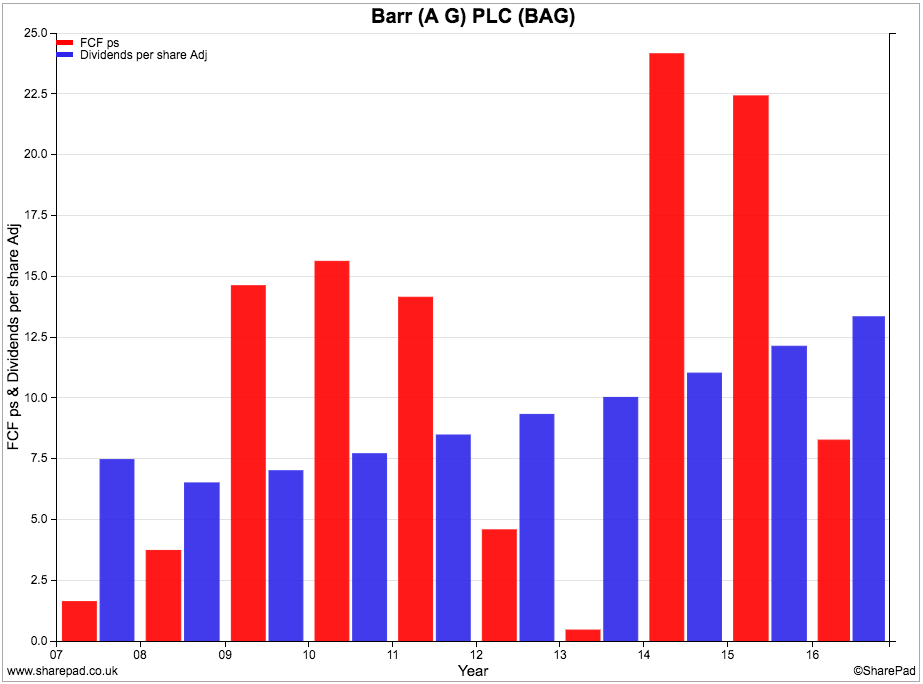 Over the last ten years, however, the company has been able to do this in aggregate. It has produced £137m of free cash flow and paid £98m of cash dividends to shareholders.
I find cumulative analysis really useful in circumstances like this. You can do this kind of exercise easily and quickly in SharePad using the cumulative option and selecting the number of years you want to do this for.