Investment trusts
Investment trusts aren't actually trusts, they are companies whose main activity is to run and manage an investment fund. Unlike funds, investment trusts are closed end funds. This means that they don't issue new units to attract more investors. Instead the existing units, or shares, are traded on the stock exchange like company shares.
The portfolio of an investment trust tends to be more stable than a fund because the fund manager doesn't have to worry about new money coming in or disrupting the portfolio's strategy by selling investments when investors want to cash out.
To invest in an investment trust you can place an order with your broker in the same way that you would for company shares. The transaction will normally occur immediately.
One of the main differences between investment trusts and other funds is that they are allowed to borrow money (known as gearing). Gearing magnifies the returns of the investment portfolio for shareholders when markets are going up. However, they also magnify the losses when markets are going down. Heavily-geared investment trusts are therefore more risky and you need to look at this factor when you are thinking about investing in one. In contrast, the value of a fund will move in line with the value of its underlying investment portfolio.
Premiums and discounts
The prices of funds are determined by their net asset value (NAV), but those of investment trusts are determined by the forces of demand and supply on the stock market. This means that the price of an investment trust can be less (known as a discount) or more (known as a premium) than its NAV.
Discounts occur for a variety of reasons. Often there is low demand for an investment trust because there is poor sentiment towards the assets or countries that it is invested in. The other main reason for a discount is poor portfolio management. As a general rule of thumb, the better the track record of the fund manager, the lower the discount to NAV. However, the presence of discounts is often cited as a reason why some people don't like to put their money in investment trusts. Many excellent investment trusts, however, trade almost permanently at a discount to their NAV.
Good management can see investment trusts trading at a premium to their NAV. Premiums also occur if the trust is invested in the latest hot sector and there is a shortage of competing funds.
I will be writing another article which delves into how to analyse and compare these different types of investment fund.
The size of premiums and discounts of investment trusts change depending on what's going on in the general investment markets. Keeping an eye on the trust's historic relationship between its price and NAV is an important factor to consider when you are thinking about investing in an investment trust. I'll talk more about this in the next article.
Costs
Investment trusts are often recommended as investments because they can have lower annual management fees than funds. This may have been true in the past, but the banning of commission payments from funds to financial advisors has seen funds become a lot cheaper and more competitive.
There are also additional costs to consider when buying an investment trust. Because they are shares listed on the stock exchange, you have to pay broker commissions and stamp duty as well as incurring a bid-offer spread (the difference between the buying and selling price of a share). These costs can add up and can make a significant dent in the size of your initial investment (more on this in my next article).
Tax and investment trusts
Investment income and capital gains in the portfolio are typically exempt from tax. The investor may have to pay tax on income and capital gains if the trust is not held in a tax-free account (e.g. an ISA or SIPP).
Looking at Investment trusts in SharePad & ShareScope
In ShareScope you can add a variety of information for investment trusts in the form of columns - performance over different timeframes, ongoing charge, yield etc. In SharePad, more information is provided such as top ten holdings and this can be found on the Summary tab in the Financial view: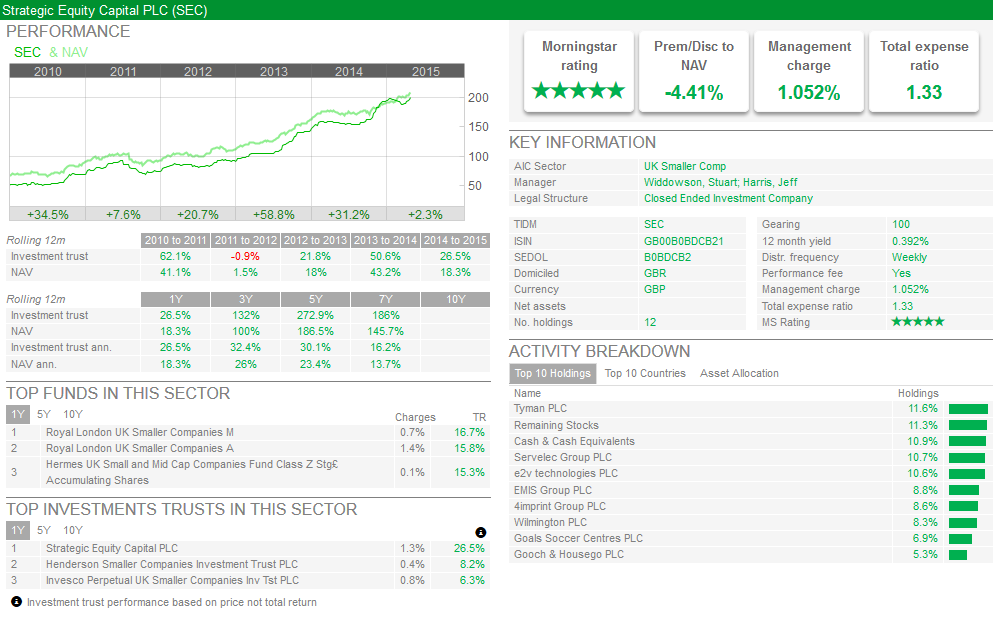 As with funds, this summary includes lots of useful information on things such as fund performance, ongoing charge, the level of income you would receive and alternative, similar investments that you might want to consider.