Valuation & future prospects
If its recent first quarter trading statement on 7th July is anything to go by, M&S is struggling. Clothing and Home sales fell by 8.9% on a like-for-like basis whilst food sales also fell.
M&S is cutting prices in its clothing and homeware ranges and is having fewer promotions. This might be to address the problem that its prices are too high compared to its competitors. The problem for M&S and other retailers is that they have a lot of fixed costs (such as wages and rents) but the value of what they are selling is falling. This makes it very hard to grow profits.
City analysts are expecting no sales growth in 2017 and not much thereafter. Trading profit (EBIT) is forecast to fall sharply as profit margins fall, again with not much, if any, pickup expected in 2018 and 2019. Normalised EPS is expected to fall by 20% on the back of falling profits and a higher tax rate on those profits.
Underlying dividends are expected to keep on growing, but last year's 23.3p per share payout included a one-off, special component of 4.6p which probably won't be repeated.
So given this difficult backdrop, it is not surprising to see M&S's share price languishing near a five year low. But are the shares cheap or expensive?

The shares do not look expensive. A forecast dividend yield of 5.8% is probably safe for now unless trading takes another turn for the worse. A price to free cash flow multiple of 9.7 times might look cheap to some investors as well.
An interesting angle on M&S's current valuation is its earnings power value (EPV) - an estimated value per share if a level of trading profits continued forever. If M&S could maintain last year's EBIT of £804.7m forever then based on an investor requiring a return of 8%, SharePad gives an estimated EPV per share of 422.8p compared with a current share price at the time of writing of 340p. That's an upside of nearly 27%.
But we know that M&S isn't going to make £804.7m this year. The consensus of City analysts is currently predicting £684.6m whilst M&S is saying that its tax rate will increase from 17% to 20%. This will reduce its EPV to 333p as shown below and suggests that M&S shares are no bargain at the moment.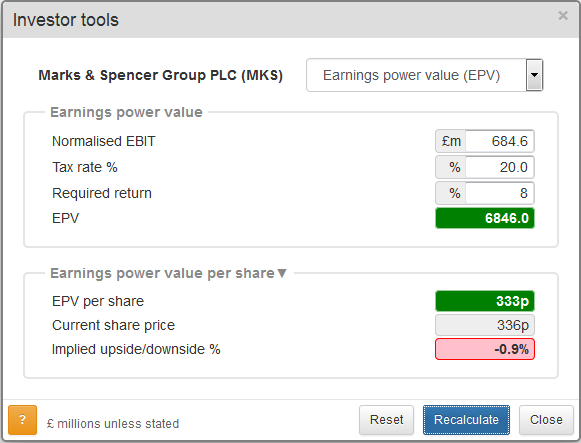 Note that SharePad is being generous to M&S by adding its pension fund surplus of £440.3m to the value of its equity. This boosts M&S's EPV by 27p per share. This money might not be available for shareholders and it is usually sensible to assume that it is not.
What this EPV analysis is probably telling us is that M&S needs to start growing its profits again to look cheap. That is, if its forecast profits were higher, the EPV would be higher and represent a reasonable upside from the current share price. A lot will depend on the success of its strategy for clothing which has proven to be very difficult to get right. Its food business is doing well and the company will be hoping for continued success and further growth from 450 new Simply Food stores that it is opening between 2016 and 2019.
Alternatively, if investors lower their required return, this too would value the shares higher. Given the interest rates on bonds and savings accounts this scenario is possible.