Stock Watch: Apple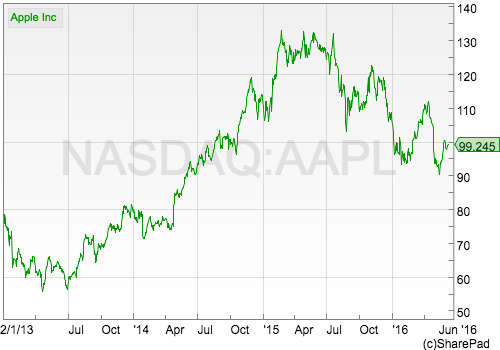 Apple (NASDAQ:APPL) is one of the most talked about companies in the world. Its iconic products such as the iPhone and the iPad are owned by hundreds of millions of consumers.
For years, Apple and its share price defied the sceptics who predicted its demise. Pessimists argued that Apple was trying to defy the laws of consumer electronic products in that over time they tend to get a lot cheaper.
This is true for most electrical goods. If you buy the latest TV set then within a year it will usually be a lot cheaper. Computers with fast processing speeds and lots of memory that used to cost a lot of money can now be bought for a lot less than they could be a few years ago.
Apple has been able to avoid this fate by innovating and continually bringing out new products that people want to buy. Yet its fortunes have been very reliant on one product - the iPhone.
The iPhone accounts for two thirds of Apple's sales and probably an even bigger chunk of its profits. Every couple of years or so, Apple has been able to convince millions of people all over the world to trade in their old iPhone for a newer, better one. This process has been a supreme example of branding that allowed Apple to keep on growing its sales and make amazing profit margins and returns on capital - the kind of things that investors love.
It made investors think that it had a very resilient business model - an economic moat in financial jargon. Perhaps Apple with its loyal users of iPhones, iPad tablet computers, Macs, iTunes Music and Apple TV was different to run of the mill consumer electronics companies? Perhaps it had built an ecosystem that consumers would stay loyal to and keep the profits rolling in for many years to come?
This view is now being put under intense scrutiny by investors. Apple's flagship iPhone appears to have run out of steam. Sales of them across the world are falling and Apple's profits and share price have followed suit. Have the chickens finally come home to roost?
Yet perhaps all is not lost. Warren Buffett's Berkshire Hathaway has recently invested around $1bn in Apple shares. This has got some people excited despite only representing a tiny part of Berkshire's investment portfolio and has pushed Apple's share price up.
Berkshire is well known for investing in resilient businesses with steady, predictable cash flows and high returns on capital and has a knack of buying them at good prices. Is this a seal of approval that gives the green light for investors to fill their boots with Apple shares or are people getting carried away?