Cash flow performance
If there is a lesson for investors in fast growing AIM shares during the past few years then it is to focus their attentions on a company's cash flows rather than its profits if they want to avoid losing money.
I do this anyway regardless of the company but most people still talk about profits and profits growth. Sadly, some AIM companies' profits have been proved to be a work of fiction and the picture of a fast growing company was never true.
With Fevertree, we already know from the CROCI figure of just under 15% that the company does generate free cash flow but let's have a closer look to see what's going on in this area.
One of the key things you are looking for with a company with fast growing profits is to see the operating cash flow following suit. You also want to see a high proportion of turnover turned into operating cash flow. We can see from the chart below that Fevertree's operating cash flow and cash flow margin surged in 2015 but in 2013, cash was flowing out of the company from selling bottles of mixer drinks.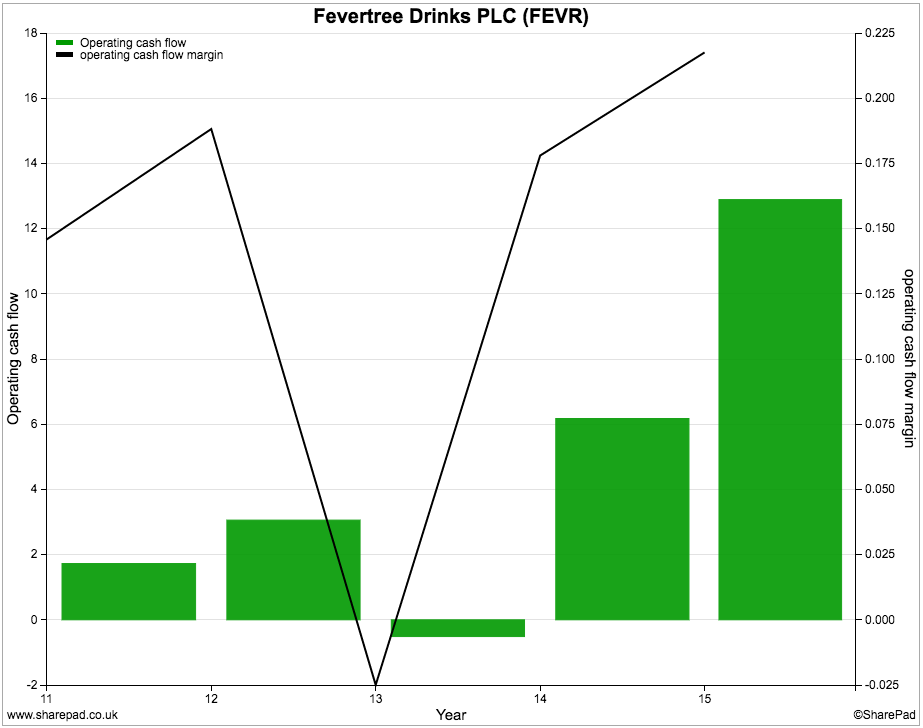 The other thing to keep an eye on is the ability of a company to turn its operating profits into operating cash flow. Ideally, this cash conversion ratio should be as close to 100% as possible - if not more.
This is not the case with Fevertree. It has struggled to turn its operating profits into operating cash flow as shown below. Is this a sign that its profits are less than believable?

Cash conversion is running at a rate of just over 70%. This is quite a low number and needs some investigating. We need to have a closer look at how Fevertree's operating cash flow is made up.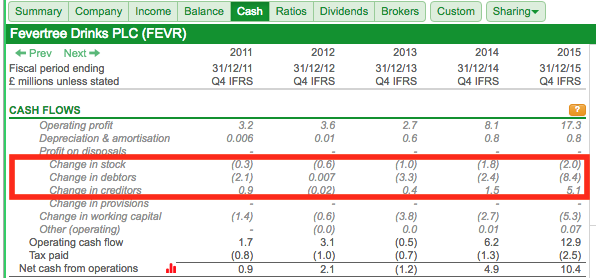 Looking at 2015's numbers we can see that £17.3m of operating profit converted into £12.9m of operating cash flow. As you can see from the table above, £2m of cash was eaten up by the build up of stocks. This is quite normal for a fast growing company. However, over £8m of cash was eaten up by selling goods on credit which was offset by getting £5m of cash in from delaying paying some bills.
The increase in debtors is a big number and could be worrying. One of the easiest ways for a company to grow is to offer more generous credit terms to its customers. Alternatively an increasing amount of debtors could be a sign of a powerful customer - such as a supermarket - flexing its muscles to get more credit and boosting its cash flow at the expense of the supplier's.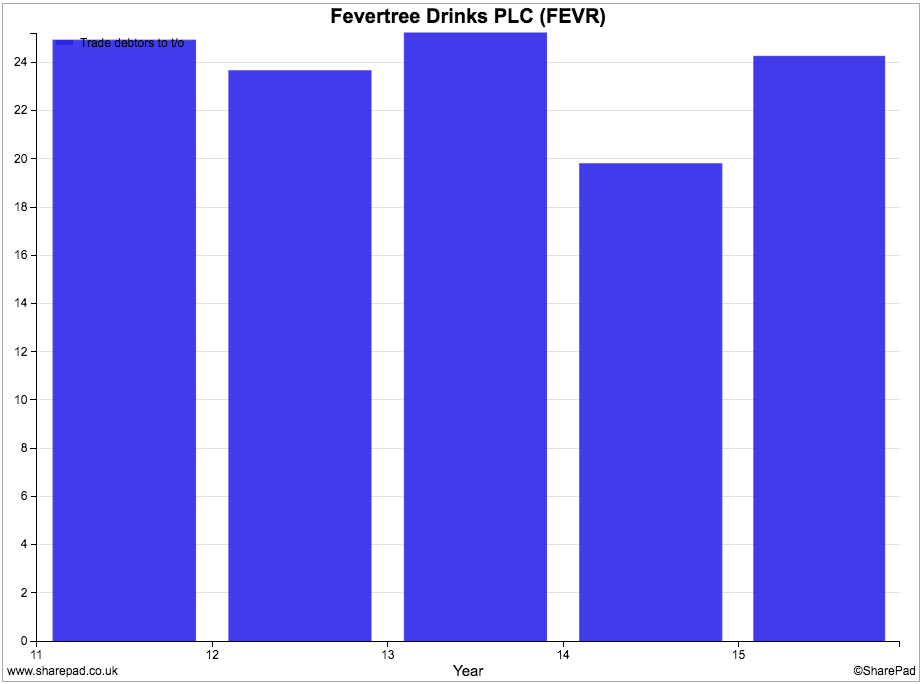 With Fevertree, I am not sure there is anything too much to worry about at the moment. The amount of annual sales unpaid at the balance sheet date was 24% in 2015 which is quite similar to levels seen in previous years. That said, there was a big jump in the ratio in 2015 and this will need to be monitored closely by investors. Ideally you want to see a stable or falling ratio here.
Elsewhere, Fevertree's cash flow looks to be all in order. One particular strength is that the company spends next to nothing on capex (new assets). This is because it has outsourced the making, bottling and distribution of its drinks to third parties.
Most of the production and bottling of the drinks is done by a company called Brothers Drinks based in Shepton Mallet in Somerset which also has a small ownership stake in Fevertree. This means that Fevertree has been able to grow without having to spend lots of money on new assets which in turn gives it a very good chance to produce lots of free cash flow - at least for the next few years. I'll have more to say on this arrangement later.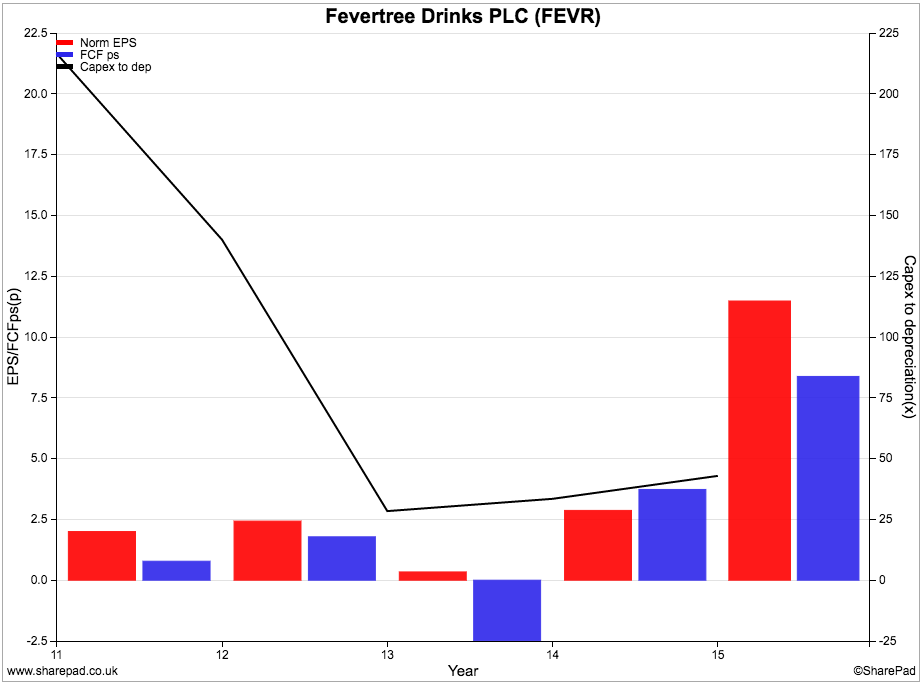 As you can see from the chart above, Fevertree's free cash flow per share has been growing strongly although it is below earnings per share due to the working capital issues I talked about earlier.