Alpesh Patel's Volume Radar
I don't put too much emphasis on volume but I sometimes use this radar to seek supporting signals.
First up are the Positive and Negative volume indices. The positive volume index focuses on days where the volume has significantly increased from the previous day's trading. It tries to determine what smart investors are doing. When trading volume is high it is thought that inexperienced investors are involved. Whereas on slow days, "shrewd investors" quietly buy or sell the stock.
When the positive and negative volume lines cross each other that can often signify the start of a new trend in my experience. See the example below.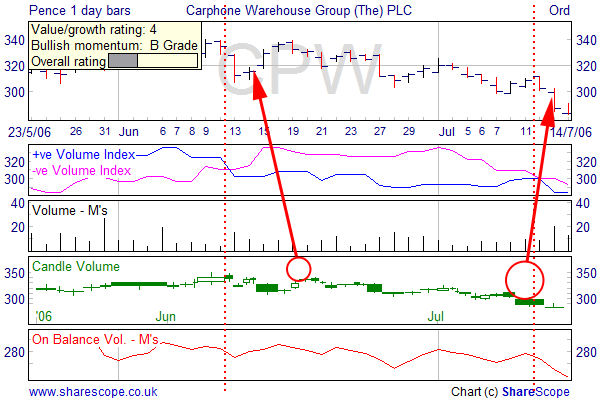 The Candle volume chart shows me Japanese Candlesticks but sized according to the volume traded. This means that the candles are not necessarily in line with the date axis. A price move made up on more volume suggests the move has more legs. A move on shallow volume would suggest the move may lack strength and one should not read too much into it. On the chart above the downturn on July 13th is made on significantly greater volume than the upwards move on the June 14th.
You shouldn't put too much weight on such readings as sometimes high volume means everyone who wants to buy or sell has done so and the trend is about to change.
The key is to look for large volume and appreciate that it means a sizeable move may still be in the offing.
On Balance Volume is a favourite with many volume followers. It is actually a momentum measure. Granville, the creator of this indicator in 1963, went on to explain his theory by stating that when volume increased or decreased dramatically without any corresponding change in the issue's price, then at some point the price would "spring" upward or downward. The idea is that smart money is buying from retail investors whilst the price is still fairly static and that it will subsequently therefore rebound.