Momentum/Value Filter
Medium risk - 2-3 month typical holding period - target 20% return
This is a data mining filter that I use to identify stocks that are both strong on price momentum and well supported on valuation grounds. The idea is that because they are well-valued, the momentum should not peter out.
Now these moves may play out over a couple of months or a couple of days. However the filter can also pick out stocks that have already run out of steam. With this filter, unlike my Value/Growth one, I look at the chart of each stock using my Momentum Radar to decide whether to trade or not.
There are two essential criteria: firstly, the price must be in an upward trend; it may have flattened out but the overall trend must be up. Secondly, the daily MACD must be going up.
My filter automatically excludes stocks under 30p but any stocks under 100p outside the FTSE 350 have to be considered as having a riskier profile. Of course, it always pays to check company news for contract losses, resignations, scandal, detrimental legislation, etc.
I would also suggest that you add Ex-dividend flags to your charts so you avoid trading just before the stock goes ex-div.
See Trade Management for how I determine my entry point, stop loss, profit target and exit strategy.
The ideal Momentum/Value trade has the following attributes:
The price is rising in a relatively straight line.
Price volatility is low which means a reduced risk of being stopped out.
The MACD is rising and isn't at historically high levels - suggesting that there is scope for further rises.
RSI and Stochastic are also rising but this is not essential. They are premature indicators and can have 'topped' out in advance.
However, it is rarely this straight-forward so let's look at some examples from the filter.
Attractive:
You can see here that the stock is starting to rise again steadily. The MACD also confirms that as it too is rising.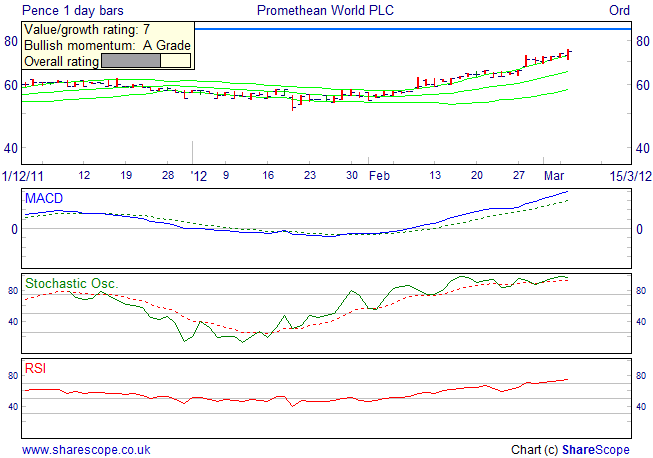 If I am concerned that the MACD (and RSI in this case) are looking extended then I check that the weekly MACD is still relatively low: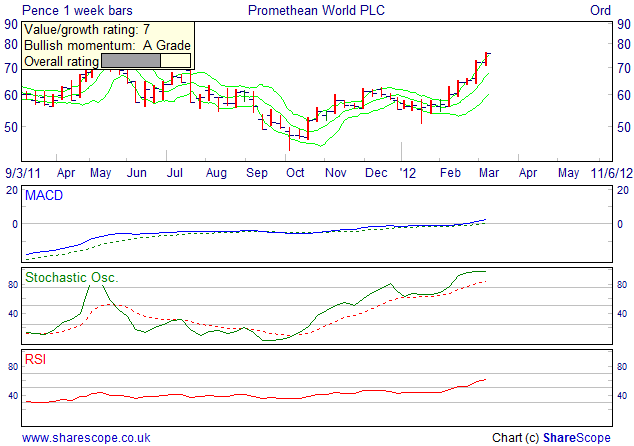 Less attractive: Since being in the filter, this stock has risen sharply. We have to be careful with it in the short-term because clearly it cannot keep on going up vertically.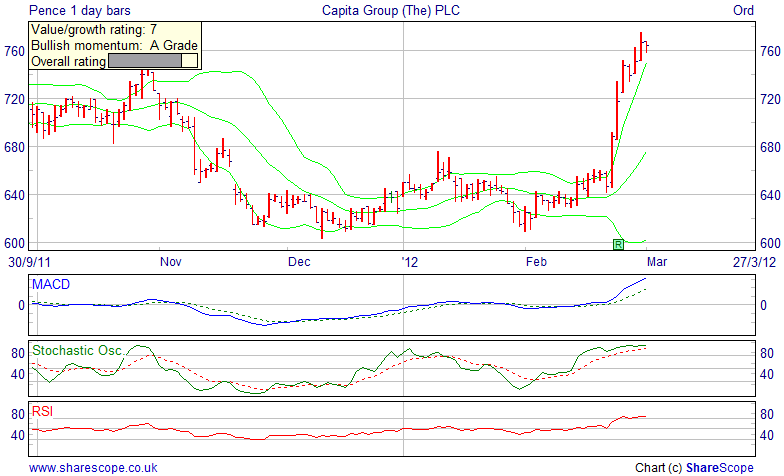 Less attractive: I would avoid illiquid stocks like this - they will usually have a wide bid/offer spread as well which will eat into your profits.