Ionic Information Ltd is the private company that created ShareScope, the UK's number one investment software. The first release of the software took two years to develop, and was designed by Martin Stamp, MD of Ionic Information.

Martin was a programmer at Psion and was one of the key people on the Series 3 - hence ShareScope's unrivalled speed and ease of use. ShareScope is under constant development and has come a long way since that first release back in 1997.
Company history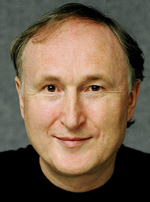 In 1997, Martin was looking for some software to help him invest in the stock market. When he found that there was nothing out there that fitted his requirements he decided to write his own. Fifteen years and 39 industry awards later, ShareScope is the leading investment software package for private investors in the UK.
In May 2002 Ionic Information launched ShareScope Pro, its service with real time prices from The London Stock Exchange (LSE) and FTSE indices. In September 2003, Ionic teamed up with Comstock and added real time prices from NASDAQ, the New York Stock Exchange (NYSE), the American Stock Exchange (AMEX), FOREX and international index data including S&P, DAX, Dow Jones and CAC40.
In November 2004, Ionic Information released ShareScope Plus, a new intraday service. Retaining the multi-window functionality and power of ShareScope Pro, users can access 15-minute delayed prices from LSE, FTSE, NASDAQ and International indices including S&P500, Dow Jones, CAC40 and DAX.
Our products
"I am very impressed indeed by the quality of your data. It is much superior to that of many of your competitors as is indeed the design and performance of ShareScope - you are to be congratulated."
BD - London

More testimonials
ShareScope is a genuinely innovative product, made by people who love technology and understand it, and who are focused wholly on providing the best analysis and quality of financial information. In an exciting, emerging area, we're at the cutting edge. By using advanced compression techniques all the data can be held in your computer's memory so access is much faster than most stock market programs and exceptionally fast when compared to Internet chart programs. ShareScope is also easy to use, highly configurable, responsive and dynamic.
In Spring 2013 Ionic will be launching WatchMyStocks - a new smarter portfolio alert service for investors. WatchMyStocks is aimed at investors who don't want investing to take over their lives. It focuses on the issues that really matter: the security of your dividends; the growth rate of your portfolio; and the stop loss levels for individual holdings. You can monitor a wide range of investment types making WatchMyStocks ideal for ISA, SIPP and child trust fund investors. ShareScope subscribers will be able to use WatchMyStocks for free.
www.WatchMyStocks.co.uk
Our customers
"I think your product is very good and I value the way you maintain close links with the customer in order to improve it. It is rare for me to encounter such a positive approach with respect to customer relations - consequently, it stands out."
EV - Canterbury

More testimonials
Perhaps more telling than the ability of the program itself, is the interest and loyalty that the program inspires in its customers. Ionic Information believes in absolute customer care - we always listen to our members, whether it be a problem which needs handling, or whether they are calling to discuss some feature they would like to be added to the program. We offer great customer service and support - when customers call, they talk to someone friendly and knowledgeable.
It is remarkable how enthusiastic our members are and how much positive feedback we get. This is what distinguishes us from larger companies, who often do not listen to customer requests, and who give you a nameless different person to talk to every time. We give our names, and encourage customers to develop a relationship with the company and the individuals in it.
The relatively small size of the company gives us the flexibility to adapt the program to suit the needs of the customer, and to give the customer personal attention. We are always happy to hear your views about ShareScope, or about investment software in general. Please feel free to contact us by mail, telephone or email at any time.
Legal Information
Ionic Information Ltd.
Ionic House
3 Bath Place
Rivington Street
London
EC2A 3DR
Registered in England and Wales at the above address.
Registration number: 3203479
VAT Number: 653 4400 57